*This post may contain affiliate links. As an Amazon Associate we earn from qualifying purchases.
Our Favorite Dog Books
The genre of dog books is one of the most loved in literature. There isn't one animal lover who hasn't, at one time or another, curled up with a story about our favorite furry friends. Even if they haven't read the book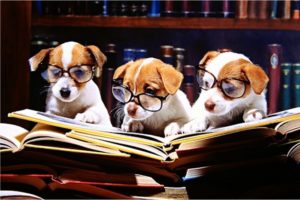 , many have watched a movie that's based on one of the classic dog books. We made a list of our favorite dog books, ranging from children's to adult literature, but even grown-ups can enjoy the classics of their childhood. For this list we avoided most the traditional classics, like "Old Yeller" and "Where the Red Fern Grows". Instead, we tried to pick great books that you may not have read, or even heard of. Who doesn't want to experience something new? So, without further ado, why don't you dive into our list of the top ten Dog books of today? See how many you've of these books you've read. Maybe you'll see some of your favorites, or even find a new one!
1. Go, Dog. Go! By P.D. Eastman
Written in 1961, this dog book has been a family favorite for over fifty years! Even though "Go, Dog. Go!" was written for beginning readers, the story of red dogs, blue dogs, big dogs and little dogs is a story that even adults can love.
2. Clifford the Big Red Dog By Norman Bridwell
One of the most famous dogs in literature, Clifford The Big Red Dog has more than 126 Million books in print! Who could forget the giant red companion to Emily Elizabeth? These dog books are literary classics that are loved by teachers, parents and kids alike. Clifford has taught us life lessons, telling us to be kind, share, help others, and be a good friend for almost fifty years.
3. Dog Heaven by Cynthia Rylant
Anyone who has ever lost a beloved pet can find comfort and solace in this classic bestseller, written by Newberry Medalist Cynthia Rylant. With descriptions of huge fields to run in, and delicious biscuits no dog could resist, "Dog Heaven" paints a picture of an ideal place God would create for man's best friend.
This book is notable as the first book illustrated by the author. "Dog Heaven" is made unique by Rylant's bold, bright paintings. This image of a Dog's afterlife is sure to bring solace to anyone who is grieving the loss of a furry friend.
4. My Dog Skip by Willie Morris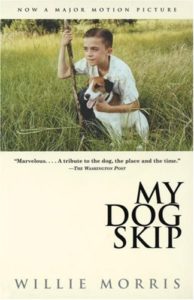 This semi-autobiographical book, tells the story of a boy living in 1943, in a sleepy American town, on the banks of the Yazoo River. A classic tale of a boy and his dog, growing up in small-town America, this book has a soul of its own, and will enchant readers of any age. This beloved book was even made into a film, and belongs alongside other classics such as "The Adventures of Tom Sawyer" and Russell Baker's book "Growing Up."
5. White Fang by Jack London
This is the ultimate in adventure dog books, leaving the tame world of domesticated dogs, and entering the realm of proud and wild wolves. "White Fang" is a classic novel by American author Jack London — and the name of the book's main character, a wild wolf-dog. Published in 1906, the story takes place in Yukon Territory of Canada, during the 1890's Klondike Gold Rush.
The story follows White Fang's journey from wilderness to domestication. It is a companion novel to London's most Famous work, "The Call of the Wild," which is about a kidnapped, domesticated dog who embraces his wild ancestry to survive and live in the wild. Most of "White Fang" is written from the perspective of the canine title character. Jack London used this point of view to explore how animals view their world and how they view humans. White Fang examines the violent world of wild animals and the equally violent world of humans. Through this lens he studies the complex issues of morality, and the possibilities of redemption.
6. The Wolf Wilder by Katherine Rundell
"A girl and the wolves who love her embark on a rescue mission through Russian wilderness in this lyrical tale." Another of the Adventure Dog Books, "The Wolf Wilder" is a contemporary tale of the wild "dogs" we love so much. This story follows the girl Feo, whose mother trains domesticated wolves to be able to fend for themselves in the frozen wilds of Russia. Instead of taming the wolves, they are "wilding" them. Feo herself is training to follow in her mother's footsteps to become a Wolf Wilder. Feo loves taking care of the wolves, especially the three who stay at the house because they refuse to leave her, even though they have already been "wilded."
Unfortunately, not everyone is enamored with the wolves, or with the fact that Feo and her mother are turning them wild. When her mother is captured, Feo must travel through the cold, harsh woods to save her—and learn from her wolves how to survive. This a thrilling adventure that follows a girl and her wolves as the reader follows them through a story of love and resilience.
7. War Dog: Tales of Canine Heroism, History, and Love by Rebecca Frankel
"Under the cover of night, deep in the desert of Afghanistan, a US Army handler led a Special Forces patrol with his military working dog. Without warning an insurgent popped up, his weapon raised. At the handler's command, the dog charged their attacker.
 There was the flash of steel, the blur of fur, and the sound of a single shot; the handler watched his dog take a bullet. During the weeks it would take the dog to heal, the handler never left its side. The dog had saved his life." 
In this Nonfiction Dog Book, author Rebecca Frankel offers a riveting study of the complex relationships between soldier and dog. Her book is a mix of on-location reporting, her personal experience in the world of military working dogs, and scientific research into a dog's special abilities that have made them such a key asset to the world of war. Through interviews with a variety of military officials and professionals of today, Frankel makes a passionate case for maintaining a robust war-dog force. In a post-9/11 world rife with terrorist threats, nothing is more effective than a bomb-sniffing dog and his handler. With a compelling cast of humans and animals, this moving book is a must read for all dog lovers – military and otherwise.
8. A Dog's Purpose by W. Bruce Cameron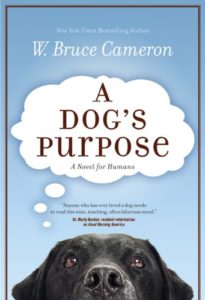 If your searching for something heartwarming and thoughtful, this is one of the best dog books you'll find. "This is the remarkable story of one endearing dog's search for his purpose over the course of several lives. More than just another charming dog story, A Dog's Purpose touches on the universal quest for an answer to life's most basic question: Why are we here?
Surprised to find himself reborn as a rambunctious golden-haired puppy after a tragically short life as a stray mutt, Bailey's search for his new life's meaning leads him into the loving arms of 8-year-old Ethan. During their countless adventures Bailey joyously discovers how to be a good dog.
But this life as a beloved family pet is not the end of Bailey's journey. Reborn as a puppy yet again, Bailey wonders―will he ever find his purpose?"
This book is funny, heartwarming, and insightful. "A Dog's Purpose" is the hilarious and emotional story of a dog's many lives. Through Bailey's eyes we see the fascination of human relationships and the deep bond between man and his best friend. "A Dog's Purpose" is beautiful, moving story that teaches the reader that our true friends are always with us, that love never dies, and that every single creature on Earth is born with a purpose.
9. Dogs Are From Neptune by Jean Donaldson
Another classic of nonfiction dog books is "Dogs are from Neptune" by Jean Donaldson.  This book serves as a training manual, but is also an in-depth collection of 41 essays reflecting on the true nature of our canine companions. Author Jean Donaldson studies the common misconceptions people have as to why dogs act the way they do. She explains what motivates your canine companion, and the best ways to change their behavior.
With witty and quirky commentary, Donaldson creates scientifically based essays that will change the way you think about dogs. This book is guaranteed to make any dog lover stop and think, and occasionally make a light bulb go off.
10. All Dogs Go to Heaven by Beth Brown
Published in 1943. "All Dogs Go to Heaven" was an anthology of stories about dogs selected by Beth Brown, and illustrated by Jack Murray. The book is no longer on the print, but we thought it deserved to be on our list for many reasons. This was the original dog book, that inspired so many dog books that came after. Beth Brown coined the famous phrase "All dogs go to heaven" which has inspired spin-offs, spoofs, and even a cartoon. If you're lucky enough to have a copy of this book, cherish it, as you have a true treasure in your collection. 
That's our list, from classic children's books, to contemporary adult literature, there are dog books for every kind animal lover. So, what do you think? Do you agree with our list? Are there any we missed? Feel free to let us know in the comments!