*This post may contain affiliate links. As an Amazon Associate we earn from qualifying purchases.
For those with large or giant breeds, large dog beds are absolutely required. However, some pets really want a place to stretch out. It is amazing how a chihuahua can take up an entire queen bed with a little effort on her part. In this article we'll be exploring large dog beds on the market and why these are the best of the best. Don't let this article override a vet's advice: if your vet has suggested a certain kind of bedding for your pet, get that instead. Otherwise, the more support your pet has, the better in almost all cases.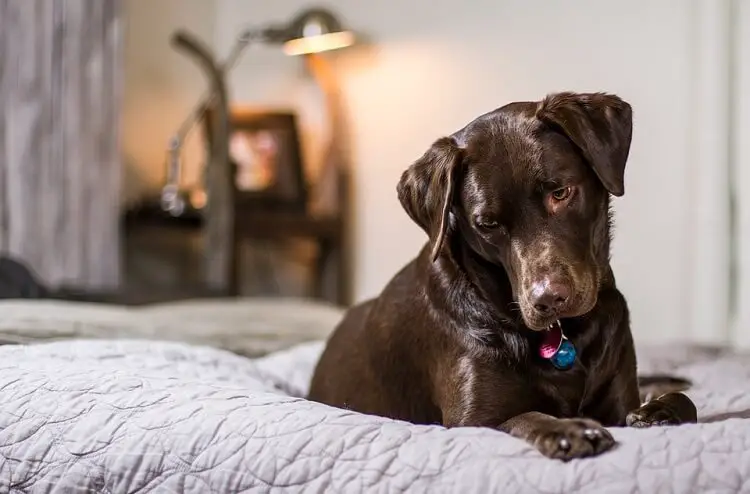 The Best Large Dog Beds to Consider
1. Kong Beds
Kong brand beds are designed with chewers and diggers in mind. They come in an array of shapes and sizes including large dog beds. The Kong Lounger Bed is 40 inches long by 29 inches wide, not including the edges of the fluffy little "armrests." It's shaped like a couch, giving your pet a nice built-in pillow with those aforementioned "armrests."
While affordable, this bed does have a few drawbacks. The cover is not able to be removed for easy cleaning like many of the others on this list. This means that if you have an older or incontinent dog, you'll probably want to throw down absorbent covers for the bed's sake. For general cleaning, the bed will hold up to simple vacuuming or a wipe down with an anti-bacterial wipe. Doing anything else may be a bit much for it to deal with.
This bed is not a solid sheet of memory foam, but shredded foam interior and Polyfil instead. It will provide a soft place to sleep for the night, but may eventually end up flat without regular fluffing. Thankfully this can be done with a quick pick up, shake, and flop back to the ground.
Kong's Lounger model is great for dogs up to about the 80-pound range. Beyond that, the bed will probably have some issues holding up to long term use. If your dog is a bed digger, take 20 pounds off that figure. Kong is well known for their sturdy products, but beds have their limits.
2. Drs. Foster & Smith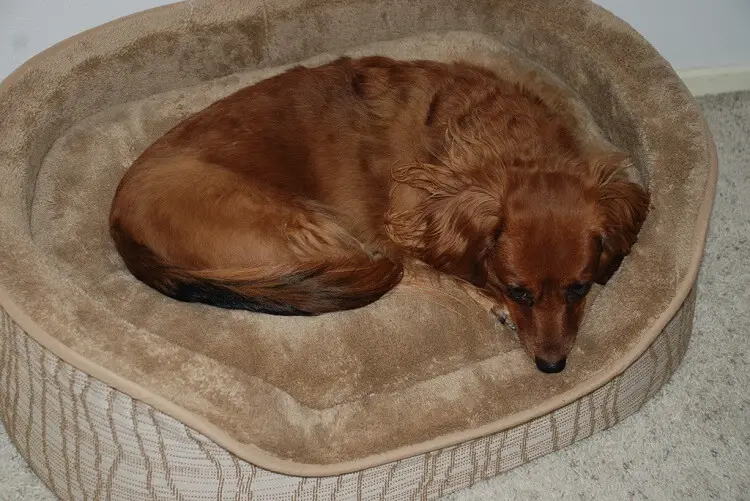 Drs. Foster & Smith sells a variety of large dog beds, but your gallant author has always found herself coming back to one in particular, especially where her Great Danes are concerned. The Quilted Super Deluxe Dog Bed comes in a 50 inch by 35-inch size that is very nearly as long as a twin mattress. Better yet? It comes with a waterproof liner, orthopedic foam and Polyfil chambers that keep the stuffing in a place where it belongs.
This bed is an enormous 7 inches thick from the ground, keeping even the heaviest dogs off the floor for the sake of their elbows and their knees. At the same time, it manages to be fairly light and easy to deal with even in it's largest size. The cover is fully removable and machine washable. Let it dry outside in the sun for a breath of fresh air or toss it in your dryer on low. The covers are incredibly durable and, after years of ownership, your author has never seen one of these beds go flat.
Cost may be prohibitive for some owners, but remember that this bed will probably last your pet's entire lifetime. It also comes in smaller sizes for those with dogs of various sizes which may not need quite such large dog beds.
3. Raised Beds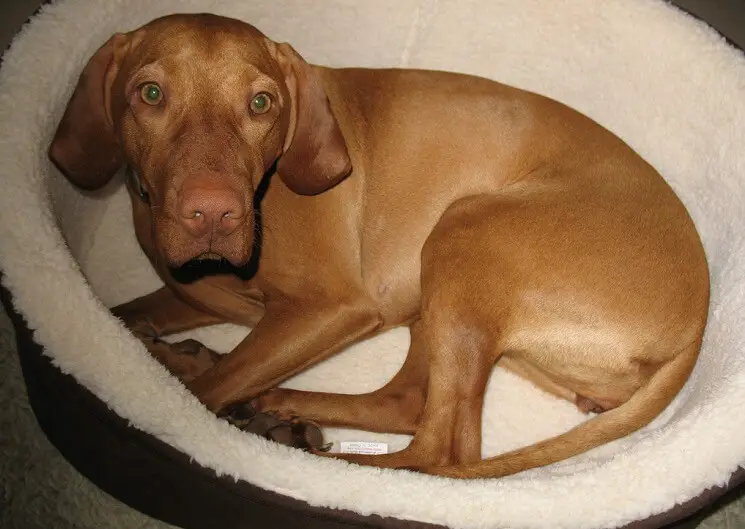 Some dogs may prefer not to lay on the ground, or they may be in situations where owners want them off it. Dog cots are ideal for this and are exactly what they sound like. Coolaroo makes everything from small to large dog beds and is a company of high repute for a great many years now.
These are a wonderful option for a "deck" bed for your large dog. Since they are off the ground, air can breeze past your pet's tummy and let them cool off a bit easier than a typical foam or stuffed bed. However, for those with very heavy dogs, it would be best to speak to Coolaroo directly on weight limits. These are varied between their different models and while a large in one may be able to hold your mastiff, another may not. Always check!
4. For the Bun Dog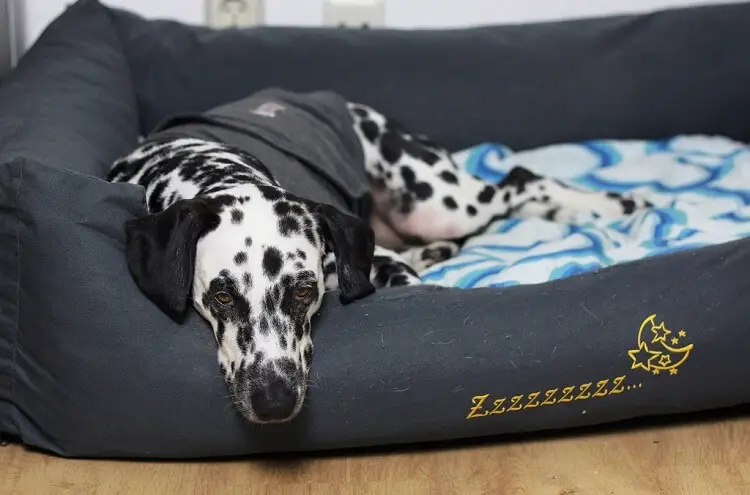 Most primitive breeds like to curl up in a little doggie bun and hide their nose in their tail while they sleep. This means that long and wide beds may not do as much for their comfort as a round bed may.
For this, we go back to Drs. Foster & Smith again. Their Deluxe Warm & Cuddly Slumber Ball is essentially an enormous bean bag chair filled with Polyfil and wrapped in a cover sturdy enough for dogs. The sole caution I would advise is being very careful with this bed and pets with mobility issues. It may prove difficult for pets that have trouble getting up to get out of this bed, assuming they want to in the first place.
5. Making Your Own
It's far from impossible to make your own dog beds these days as long as you don't have dogs that like to chew up their beds. For large dog beds, get a 6 inch or thicker sheet of memory foam. This can be easily found at most department stores or online at Foam Factory. 36 inches wide by 72 inches long is a standard twin mattress. Try to find that.
Get a zippered, waterproof bed liner for a twin mattress. Cover the foam and zip it closed. Put a twin mattress sheet on top, and you've made your own dog bed that will hold up for years to come, at a cost a little lower than most market prices. Clean up is as easy as removing the sheet, washing it, and tossing it back.
To conclude with, there are plenty of options when it comes to large god beds that you can choose from. Find the one that matches your pet's size and needs. You should focus on both durability and comfortableness.