*This post may contain affiliate links. As an Amazon Associate we earn from qualifying purchases.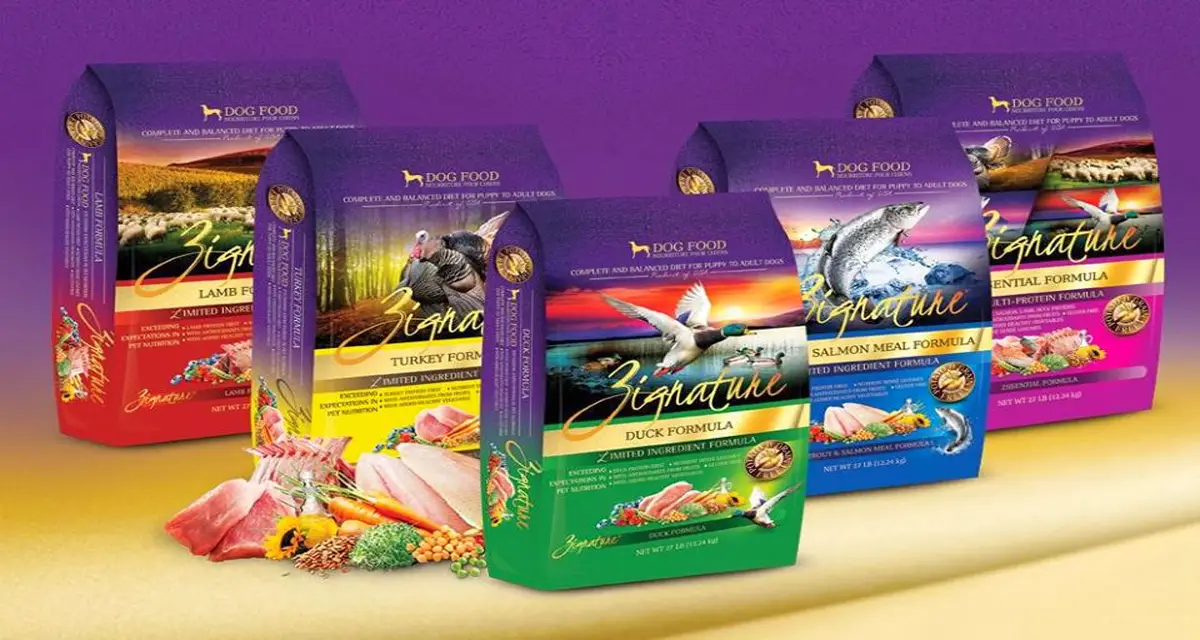 As a responsible and loving dog owner, you're always considering the health and overall well-being of your four-legged friend. 
[amazon box="B007GCGQGC" /]
Zignature Dog Food Review
Whether you just adopted a dog, or you've lived with your pup for a few years, finding a high- quality dog that you can trust (and that your dog will like to eat) can be a bit of a challenge. With dozens of brands lining the shelves of your local pet store, you might be overwhelmed by all the options.
We will tell you everything you need to know about Zignature dog food, so that you can make a confident decision about whether or not it's the ideal choice for your furry companion.
What Is Zignature Dog Food?
Zignature is a gourmet grain-free dog food that is available in a variety of dry and wet food blends. Pets Global, Inc. manufactures Zignature and is a California-based company; they have been making and distributing dog and cat food since 2010. According to the manufacturer's website, the company is an "independent holistic wellness company founded on a passion for animal welfare."
Pets Global, Inc. strives to make healthy food for dogs and provide a variety of options for dogs of all ages and health concerns. The dog food recipes are developed by nutritionists and food scientists in Minnesota and South Dakota, and all food is manufactured in the FDA-inspected facilities throughout the U.S.
According to the manufacturer, ingredients for the Zignature blends come from all over the world. Trout, salmon, and whitefish are from the Pacific Northwest, turkey comes from the Midwest, farm-raised duck arrives from France, lamb is from New Zealand, and the kangaroo is raised in Australia.
Fruit and veggie ingredients come from North America, and the added vitamins and minerals come from North America and parts of France.
Zignature Dog Food's "Keys To Canine Vitality"
With taglines like "We Never Play Chicken" and "You May Be A Vegetarian. Your Dog is Not" your interest may be piqued. What do they mean? They are part of the "Keys To Canine Vitality," and it makes their food unique from other brands on the dog food market.
Meat First Philosophy
Even though we have an unbreakable bond with our dogs, their dietary needs differ from ours. If you enjoy and thrive on a healthy vegetarian or vegan lifestyle, it doesn't mean that your dog will. Zignature foods focus on a blend that is high in protein and the first ingredient in every blend, dry or wet, is always meat or fish.
Limited Ingredients
Many dry and wet dog foods are filled with ingredients that are considered "fillers." If you've everlooked at the ingredients in dog food, you may have been confused by the ingredients and the role they play in your dog's health.
Zignature strives to have limited ingredients so there are fewer allergens that affect your dog. Fewer fillers and more real ingredients means a healthier coat and strong bones.
Hypoallergenic Formula
Zignature wet and dry dog food is free from the most common allergens, which includes corn, wheat gluten, soy, dairy and chicken (no chicken meal, eggs, or by-products). This hypoallergenic formula may be an ideal choice if you have a dog with food sensitivities.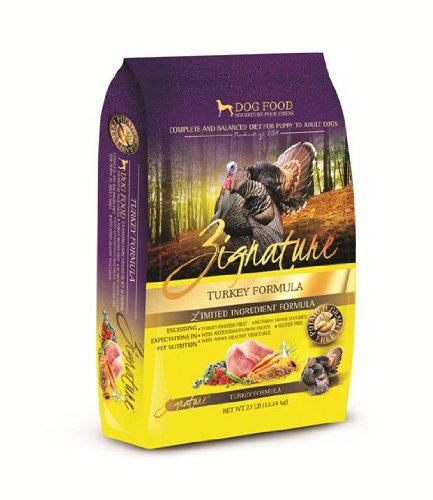 Low-Glycemic Carbs
Zignature focuses more on high-protein and less on carbs. By eliminating "high-glycemic" carbs which are often found in fillers, Zignature blends have healthier, "low-glycemic" carbs such as chickpeas. These types of carbs provide dietary fiber and maintain stable blood sugar (remember, dogs are prone to the same issues as us, including diabetes).
Wet And Dry Zignature Blends
Now that we've taken a look at what makes Zignature dog food unique, let's take a closer look at some of the wet and dry food blends that they offer.
For dry and wet Zignature formulas you can choose from:
Pork

Goat

Venison

Lamb

Kangaroo

Turkey

Guinea Fowl
Duck

Salmon

Whitefish

Trout & Salmon

Catfish

Zssential (contains turkey, duck, lamb, and salmon)
Each formula follows their "limited ingredients" mission and is hypoallergenic. In addition to not containing chicken (or any chicken by-products), each high-protein formula is grain and potato- free.
What's In A Bag Of Zignature Food?
Want to know what you can expect from a bag of Zignature dog food? Let's take a look at the ingredients, using the lamb formula as an example.
The ingredients list is as follows and in order: Lamb, Lamb Meal, Peas, Chickpeas, Pea Flour, Sunflower Oil, Pea Protein, Flaxseed, Natural Flavors, Dehydrated Alfalfa Meal, Dried Beet Pulp, Potassium Chloride, and Salt.
The Minerals include Zinc Proteinate, Iron Proteinate, Copper Proteinate, Manganese Proteinate, Cobalt Proteinate, Selenium Yeast.
Vitamins include Vitamin A Acetate, Vitamin D3 and E supplements, Niacin, d-Calcium Pantothenate, Thiamine Mononitrate, Pyridoxine Hydrochloride, Riboflavin, Folic Acid, Biotin, and Vitamin B12 supplement.
To top off the ingredient list, there are blueberries, carrots, and cranberries. If you've checked out the ingredients list of competitor's dog food, you might notice that Zignature looks quite different (and more recognizable regarding what's in the bag of dog food).
There is also a minimum percentage of the following:
28% crude protein
16% crude ​fat
6% crude fiber
10% maximum of moisture
1.2% calcium
1% phosphorus
3.4% omega 6 fatty acids
.9% omega 3 fatty acids.
Pricing
Depending on the blend you select, you may end up paying a little more than other Zignature formulas. According to Chewy.com and Amazon, the Zignature Turkey Formula is $57.99 for a 27-pound bag of dry food and $35.88 for a 12-pack of 13-ounce cans of wet food.
Other wet food Zignature formulas, with the exception of the Venison and Kangaroo Blends, cost $35.88 for a case. The Venison or Kangaroo cost $47.88 for a 12-pack of 13-ounce cans. Dry food pricing varies based on the size of the bag and the formula blend that you choose. Dry food is available in 4, 13.5, and 27-pound bags.
When you compare Zignature to other high-quality dog food brands like Blue Buffalo or Taste Of The Wild, the price is about the same.
How It Zignature Compares To Competitors
Zignature is not the only dog food brand that focuses on "real" and wholesome ingredients. Other brands like Blue Buffalo, Taste of the Wild, and Wild Calling all offer grain-free options and ingredients that owners can understand.
One of the major differences is that Zignature dog food doesn't contain chicken or any chicken by-product where other companies still consider chicken to be high-protein meat that's suitable for dog food.
Zignature also carries few options, aside from the various flavors. There are no specific blends for puppies or senior dogs so it can be safe to assume that the limited ingredient formula is safe for a dog of any age or size (just follow the feeding guidelines on the packaging).
Where Can You Buy Zignature Dog Food?
You're not likely to find Zignature dry or wet food at your local grocery store but you may be ableto purchase it at your pet stores, such as Petco, and at online marketplaces such as Chewy.com or some blends are available on Amazon. Want a complete listing of nearby stores that carry Zignature food? Click here to see the map.
If you are interested in Zignature, but don't know if you want to commit to a full bag or can of food, you can request a free sample from the company or see if any of the stores offer a sample.
What Others Are Saying About Zignature Dog Food
As we started to read other customer reviews and comments about Zignature dog food, we noticed that it's virtually a five-star rated product and a majority of the reviews are overwhelmingly positive.
What do people like about Zignature? People appreciate that the ingredient makeup of each formula is easy to understand and are foods that we, as humans, would eat on a regular basis. Many competitors create dog food blends with ingredients that cause a variety of health issues in dogs from sensitive digestive tracts and sensitive skin. The limited ingredients reduce flare- ups and other problems.
Despite the mostly positive online feedback, some users noticed that their dogs ended up drinking more water when eating the Zignature blend (which lead them to have accidents in the house). The owners suspected that the increase of water intake had something to do with the salt or other ingredients in the food.
Some users complained that the formula had too much fiber and their dog ended up having an upset stomach and other digestive issues because of the formula.
There were not many users who mentioned the cost of the food (even though it costs more than other dog foods on the market). Most users who did discuss the price said that the money was well spent considering the quality of ingredients and how much their dog liked the food.
What We Think About Zignature Dog Food
Like the majority of positive feedback from the general public, we agree that Zignature is definitely a brand worth feeding to your dog. We like that the ingredients are healthy and easy to understand.
We also think that one of the reasons for this dog food's continued success is that it has never been recalled, which helps dogs owners find a brand that they can trust.
Even though some of the reviewers were not happy with the dog food, we suspect that their dog may have still been in the transition period of switching between their other food and Zignature food. The manufacturer recommends a two-week transition period to ease into the Zignature dry or wet food.
If you visit the Zignature site, you will find lots of helpful tips as well as an FAQ section. The company stands behind their product and believes in it so much that if your dog doesn't like the food, you can receive a full refund.
While the price is higher than other popular dog food brands in the store, given the high-quality ingredients, your money is well-spent. If you consider your dog a part of your family (like a lot of pet owners), you're probably willing to invest in dog food that will benefit your dog's overall health and well-being.
Coupons and Deals For Zignature Dog Food
Who doesn't like to save a little money when buying high-quality food for your pup? You might need to look around a bit on the Internet for an occasional coupon or deal for Zignature, but you should be able to find at least a few chances to save a little money on your online order.
When you order online from sites like Chewy.com, Amazon, or other online pet supply stores, you may qualify for free shipping or even save a percentage when you sign up for auto ship.
If you visit coupon sites like PawDiet.com, you may be able to find some coupons or promo codes to use when ordering a bag or can of Zignature at an online pet store.
Why not head over to the Zignature Facebook page? There are occasional deals to watch for and contests to win a free bag of dog food.