*This post may contain affiliate links. As an Amazon Associate we earn from qualifying purchases.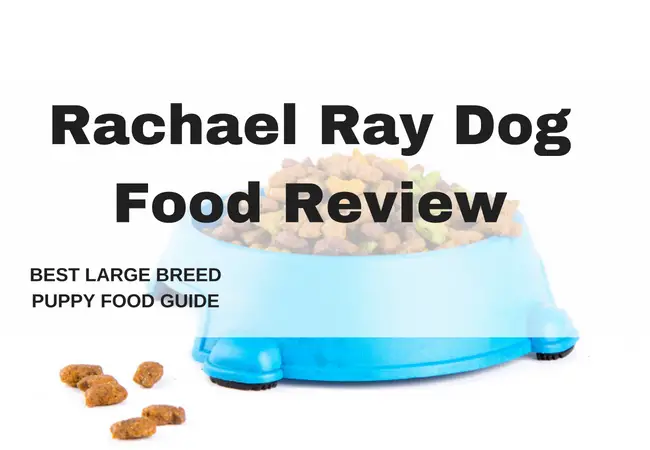 Rachael Ray Dog Food, Rachael Ray is not only a TV personality and celebrity chef, but she has branched out into creating food for your beloved canine companion. 
When it comes to keeping your furry family member well-nourished, Rachael Ray's line of Nutrish brand dog food may be the ideal chow that your dog will crave.
What Is Rachael Ray Dog Food and How Does It Work?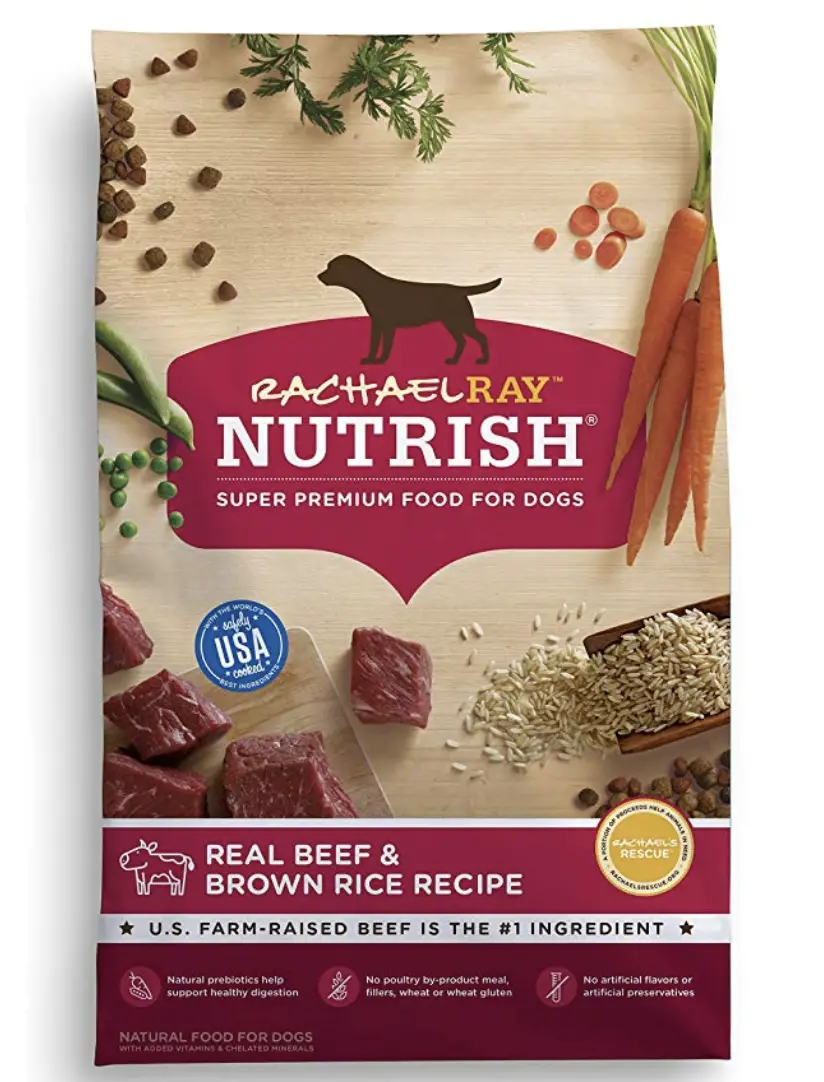 Pros
Cons
Rachael Ray has developed multiple types of dry and wet food for dogs, under the Nutrish product line.
The quality of her dog food is relatively above average and contains an average amount of protein and carbohydrates.
Most of Rachael Ray's dry dog food uses a considerable amount of plant-based materials for protein content, in addition to animal proteins.
Rachael Ray's Recipes
Rachael Ray's recipes that so many people adore were the inspiration behind the creation of the Nutrish line for pets. Nutrish uses all natural ingredients and vitamins and minerals for a balanced diet.
The dog food is available at various outlets, such as PetSmart, Amazon, and Chewy.
The dry dog food options include Zero Grain, PEAK, Just 6, Super Premium, and Dish.
There are wet dog food options sold under the PEAK option, and under the standard Nutrish label with recipes like rustic duck stew, savory lamb stew, chicken paw pie.
The names of the food options for dogs are not only full of nutritious and delicious ingredients, but they have colorful and memorable names too.
Critical Components for Optimizing Dog's Health and Energy Levels
When looking over Rachael Ray's dog kibble, pet owners will want to be aware of the amounts of critical components for optimizing a dog's health and energy levels.
Quality protein sources that don't necessarily reduce to mostly water and are substantial
Fiber that helps regulate gut bacteria provided from grains or plants
Added nutrients and minerals to ensure a canine's vitality and system function
The type of carbohydrate sources used like rice, oats, wheat, corn, potato, or millet
Whether probiotics have been added to the food and the impact of digestibility
What Makes Rachael Ray Dog Food Unique
Ainsworth Pet Nutrition manufactures the Nutrish line of Rachael Ray's dog food. Based in Meadville, Pennsylvania, the company was founded by George Ainsworth Lang who wanted to create a top-quality pet food that was adored by animals and affordable for owners.
Nutrish often includes dried peas, which offers a quality source of carbohydrates, dietary fiber, and plant protein. Some recipes include the use of beet pulp because it contains a significant amount of fiber.
Rachael Ray's dog food does not contain probiotics like some of its competitors, which would help dogs with digestion and aid gut health.
Minerals Added Easier for Dogs to Absorb the Needed Nutrition
The minerals added to the dog food are attached to the protein, making it easier for dogs to absorb the needed nutrition from their diet. Chelated minerals are usually in higher end dog foods with attention to quality.
The United States manufacturers the dry dog food under the Nutrish line. Thailand manufacturers the canned and wet Rachael Ray Nutrish foods under US-food standards.
Nutrish has five specific dry food types using over ten different select recipes. Dog owners have the options of choosing the following foods for their pet.
Rachael Ray Nutrish
Dish
Just 6
Zero Grain
PEAK
Nutrish is unique because of the delicious sounding recipes composed in both dry and wet forms for dogs.
Pricing
The price for Rachael Ray dog kibble is a bit more expensive than comparable brands. However, you do get what you pay for, a quality dog food with attractive and delectable recipes that dogs will salivate over and savor.
The Nutrish line is not the most expensive on the market, as it is nearly 30 cents cheaper per pound than Eukanuba dry dog food.
On Amazon, a 6-lb. bag of  Nutrish Real Chicken & Veggies Natural Dry Dog Food retails for $.
If you like shopping at Target, Rachael Ray Nutrish Zero Grain Natural Dry Dog Food Turkey & Potato recipe retails for $$ for a 28-lb. bag.
Rachael Ray Dog Food Review
Rachael Ray is not only proficient at cooking convenient and easy meals in the kitchen, but the beloved American TV personality and the professional chef has branched out into dog food. The The Brand dog food of Rachael Ray is a continuation of Rachael's family background in the culinary world.
Rachael's Nutrish line of dog food offers gourmet recipes for dogs, with an emphasis on using natural ingredients, and balanced meals. Nutrish attempts to balance the number of carbs, fats, and offer healthy protein sources for canines.
Factors makes the Product Worthwhile
When it comes to reviewing Rachael Ray dog food, we took a look at a few key factors to see what makes this product worthwhile. And you will be able to see how the Nutrish line differs between comparable products on the market.
Before selecting the best type of dog food for your furry four-legged friend, you'll want to assess their nutrition needs, the choice of ingredients used, and digestibility.
Public Perception
According to the Nutrish website, customer testimonials support Rachael Ray dog food as a quality product, and it comes highly recommended to other dog owners.
One satisfied customer commented, " 3 weeks and the results are amazing! My dogs seem to have more energy…"
Another customer commented, "My dog is a very picky eater, and she devoured this food!"
Nutrish Line of Dog Food Overall Satisfaction
Overall, most people have above satisfactory results with the Nutrish line of dog food, especially when their dog is a picky eater, or quick to snub other brands of dog food. Many dog owners who make the switch to Nutrish like that dehydrated fruits, vegetables, and meat are in the dog food,  and it is visible.
Most dogs seem excited by the Nutrish dog food, and really can't seem to get enough. Owners with dogs that have dietary issues revolving around grains, appreciate that there are grain-free options with the Nutrish Zero Grain line of dog food.
High-Quality Dog Food with Premium Ingredients
Rachael Ray's dog food overall receives high rankings on various websites, with the average rating for most products ranging between 4.6 and 5 stars. The perception of her dog food is that it is a high-quality dog food with premium ingredients, which support the health and energy levels of dogs.
Rachael's dog food has not ever had to be recalled because of a defective or contaminated product and enjoys a solid reputation for its creative recipes, nutritional composition, and natural ingredients.
How It Compares
There are a lot of brands that dog lovers trust to feed and support the health of their beloved furry family members. Overall, when it comes to providing adequate nutrition for canines, owners want a dry or wet dog food that offers substantial protein, carbohydrates for energy, and fiber for easy digestion.
We compared the Nutrish line to Iams, Science Diet, and Diamond Naturals dog foods.
Protein
Nutrish dog food offers a commendable amount of protein in its products. Compared to other dog food like Iams, Rachel Ray's dry dog food contains nearly 3% more crude protein than Iams. Compared to Science Diet's dry dog food, Nutrish tops out with 5% more protein.
Fats
Getting enough fats are essential to dogs being able to reduce inflammation, make a dog's coat gleam with a healthy sheen, and help with the absorption of specific vitamins. Both Iams and Rachael Ray's wet dog food contain relative equal amounts of fat, but Ray's dog food contains about 1% more fat.
Nutrish dog food does not frequently include high-quality omega-3 fatty acids, except for a few of its recipes that do include seafood. Many of the Nutrish recipes include poultry fat for their flavor, rather than nutritional quality and support of the body's functions.
Fiber
Nutrish dry dog food has only a little over 1% more fiber than competitor Science Diet. But between Nutrish wet dog food and Science Diet's, Nutrish provides dogs with nearly double the amount of fiber with a 4% difference.
Fiber within dog food helps a canine regulate their gut bacteria, and is not a replacement for the use of probiotics. 
Carbohydrates 
Dogs do not need carbohydrate sources in their food, but most dog foods are formulated with 30 to 70 percent carbohydrates because it provides additional inexpensive calories. The carbohydrates selected for a dog food give some energy and add to the shelf-life stability, flavor, and texture of dog food.
Many of the dog food options from Rachael Ray do not contain carbohydrates with a high value and use either ground corn or ground rice. Some of the Nutrish line do include sweet potatoes and brown rice which offer more bulking calories. 
Probiotics
Diamond Naturals dog food usually includes probiotics, or beneficial bacteria,  for enhancing a dog's digestive health and immune support. However, Nutrish dog food does not contain probiotics. Rachael Ray dog food relies on the use of adequate fiber sources and the phytonutrients within vegetables included in their recipes to support healthy canine digestive function.
What We Think
You won't have to break your piggy bank or clean out your bank account to afford Rachael Ray dog kibble.
The Nutrish line of grain-free and standard pet food is moderately priced and accessible compared to more premium dog foods. 
The combinations of animal proteins, vegetables, carbohydrates, and added minerals offer many dogs a meal that they feel are worth howling over the moon.
Ray's dog food does include lean meats like salmon, chicken, lamb, and turkey. Nutrish uses natural ingredients, but some added elements may make you take pause.
The inclusion of beet pulp and iron oxide may make some dog owners pass on Rachael Ray's dog food. Some dogs owners may not want their dog consuming food dyes, or ingesting a filler that lacks any real nutritional value.
Brown Rice Plus More Essential Nutrients and Fiber
Nutrish dog food often includes brown rice, which has more essential nutrients and fiber than white rice. However, feeding a dog a diet with a balance of proteins and fats is ideal versus a dog food packed with carbohydrates.
If you are looking to feed a larger breed of dog, or you want to give your dog a more nutrient dense diet, you'll probably want to go with PEAK.
PEAK provides 30% of their calories from proteins, and it is one of the newest additions to the Nutrish line.
The recipes for PEAK include Open Range with Beet, Venison, & Lamb, and Northern Woodlands Recipe with Turkey, Duck, & Quail.
The nutrition content in PEAK is the highest versus the standard fare offered by Rachael Ray, and will undoubtedly provide some satisfaction for a dog's stomach and support their nutritional needs.
Middle-of-the-road Brand of Dog Food
Overall, Rachael Ray has provided a middle-of-the-road brand of dog food, with recipes that might warm up a human's heart even a bit more than a canine.
However, many customers have been pleased with their dog's reaction to the Nutrish line, especially when living with a picky eater for a canine.
Nutrish wins out for being affordable compared to brands with a similar price range.
However, consumers should be aware that the Nutrish line does not use the most premium ingredients, because including fillers like food dyes, and ground corn or ground rice is a bit of a letdown. But, most dogs and their humans will appreciate that animal proteins like chicken or beef are the first foundation ingredient used.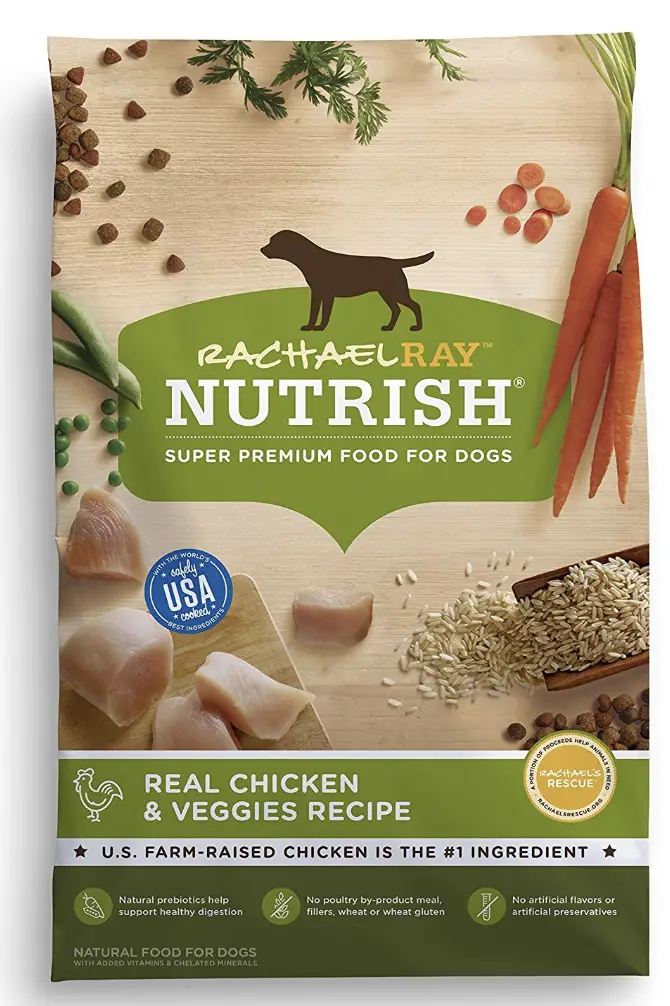 Coupons and Deals
Customers who are looking for a deal on Nutrish dog food will be happy to know that there are coupons frequently available for these products.
You can find deals and coupons for Rachael Ray Nutrish PEAK dry dog food on sites like Coupon Sherpa, Hip 2 Save, and Paw Diet.
Chewy supports a coupon offering 20% off for first-timers setting up an auto-shipment order of Rachael Ray Nutrish.
Sites like Amazon, Jet, and Walmart provide free shipping deals when you spend over $25 or $35 on Rachael Ray Nutrish pet food.
And you also don't want to forget to visit Lozo or Best Deals online, to see if there are occasional coupons for Rachael Ray's Nutrish line of dry or wet dog food.
You can benefit from free shipping deals, or take a percentage off of your order.
Featured image: CC0 Public Domain Publicdomainpictures by George Hodan via Publicdomainpicture with banner, text, and logo added.​​​​