*This post may contain affiliate links. As an Amazon Associate we earn from qualifying purchases.
Every dog is unique, and each deserves a collar to reflect their individual personality. But the sheer number of cute dog collars can make it difficult and frustrating for you to sift through the many options. More options may increase the likelihood that a perfect collar does exist that compliments your dog's personality and needs. But you may not have the time and energy to find that collar. Below you will find straightforward guidelines that suggest 10 cute dog collars that parallel 10 different doggy personalities.
For the traditional dog:
The traditional dog is loyal, dependable, and stable. Probably a large dog of a well-known breed (think Golden Retrievers, German Shepherds, and Border Collies), this dog enjoys people and welcomes strangers with the same excitement as it welcomes its owners. The traditional dog needs a collar which reflects all these admirable characteristics. Leather epitomizes these qualities; it is durable and dates back thousands of years. The collars below provide suitable examples of cute dog collars for the traditional dog. They are simple and understated yet attractive and sturdy. While we narrowed down the number of options to a manageable category, you can look through cute leather dog collars to find the perfect one for your traditional dog.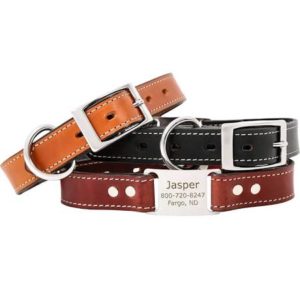 Image Source: dogids.com
For the adventurous dog:
The adventurous dog always wants to be outside and possesses seemingly limitless energy. This dog joins you on hikes and hunting trips, always looking for new places to explore and mark its territory. This dog needs a collar that can survive all these exploits. The examples below provide options for both cute male dog collars and cute female dog collars with multiple colors. If you want to shop around on your own, focus on finding a collar for your adventurous dog that is made with durable and washable materials.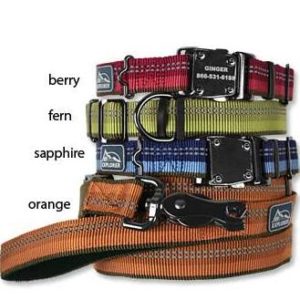 Image Source: orvis.com
For the trendy dog:
The trendy dog is more worried about staying clean and comfortable than about meeting new people and seeing new places. Still an extremely friendly pooch, this dog will happily greet anyone who walks through its door and offers it a treat or belly rub. But it will not go out of its way to form new acquaintances. Therefore, the perfect collar for such a dog would be something like the example below. The collar would contain trendy patterns and colors which are aesthetically pleasing but would not survive extreme wear. Such collars typically use plastic, rather than metal buckles. Even though such collars accomplish a great deal visually, their flimsy materials lower their value. Therefore, you can look through cheap cute dog collars until you find the perfect trendy design to compliment the personality of your trendy dog.
Image Source: poochieheaven.com
For the hipster dog:
The hipster dog is a bit quirky. She might urinate with one leg in the air. He might bark at ants. But despite its quirks, you still love your hipster dog and want to find unique dog collars which reflect its adorably strange habits. Enter the bow tie collar. By varying colors and patterns, you can select both cute girl dog collars and cute boy dog collars. Either way, the bow tie option is the perfect option for your hipster dog, and gives you a solid foundational credential to look for during your search for cute dog collars.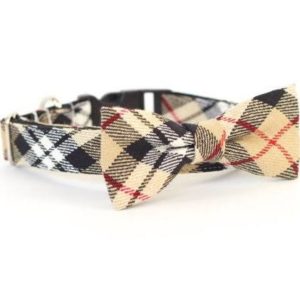 Image Source: etsy.com
For the princess dog:
The princess dog is fragile, sleepy, and gets everything it wants. It does not enjoy the outdoors and takes a while to warm up to new people. Such dogs are often expensive and small breeds. Owners of a princess dog typically do not have any children and thus pour all their money and attention into this spoiled pooch. In order to reflect this dog's privileged lifestyle, you should look for cute small dog collars. Cute collars for small dogs should be thin in width and be accessorized with flashy adornments (rhinestones are preferred). These pretty dog collars do not need to be manufactured out of strong, durable materials because princess dogs do not participate in any strenuous activities. But their owners want the best for their little pooches and probably will be willing to pay for it. The below option illustrates one of many girl dog collars that fit the needs of a princess dog, but you can find similar, equally cute dog collars for boys.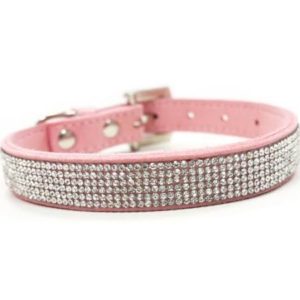 Image Source: puplife.com
For the tough dog:
The tough dog is protective, hardworking, and fearless. It prefers sitting upright and staring out the window to lounging on the couch. One growl from this dog causes other canines to cower and run away. While making friends is not an aspect of its skill set, this dog will risk everything to keep you safe. Such a dog requires a collar which lives up to this strong personae. Rugged, if not downright vicious, accessories are necessary. You can go to the extreme with spikes or, for the more understated tough dog, you may just want studs. Either way, these shiny appliqués against a simple black band, like the one pictured below, can make for a cute dog collar.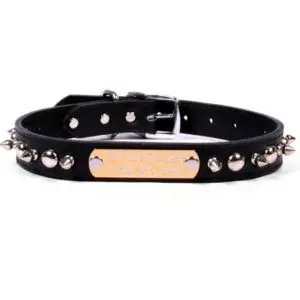 Image Source: hotdogcollars.com
For the athletic dog:
The athletic dog is an All-American pup. He loves to join in in football, baseball, and soccer games. She loves to play fetch or capture the flag. This dog can adapt to any situation and makes friends easily. While it would never ask for them, this dog enjoys cute dog accessories as much as any other. Treat your athletic dog with a bandana collar! Unique yet fitting, this cute dog collar will help your unassuming pup to receive all the attention it deserves. Various colors allow you to find cute dog collars for females or males.
Image Source: lightinthebox.com
For the "techy" dog:
The techy dog has grown up in a digital age and its personality reflects it. A perfect evening for this dog consists of its owner, a couch, and a new season of its favorite show on Netflix. Televisions, computers, and cellphones all enthrall this pup. Techy dogs pose exceptionally well for pictures and even enjoy taking selfies. For such a dog, you need an innovative collar. For instance, the one below contains a strip of LED lights that you can activate with the click of a button. This feature is both exciting and functional, as you can keep track of your dog even in the dark of the night. A brightly colored band keeps these relatively simple dog collars cute, even in the daylight. The option shown below evidences that you kind find cute dog collars and leashes with this neat feature for your techy dog.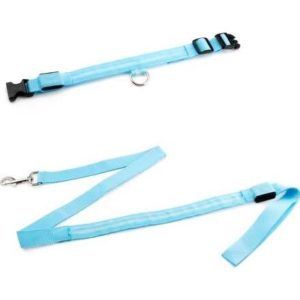 Image Source: jet.com
For the funny dog:
The funny dog is the life of every event it attends. It is always doing tricks, stealing belongings, and wanting to play. This dog lives off of social interaction, both with fellow canines and with humans. It is often a struggle to find a collar that lives up to this wily but kind-hearted character. You will have to find the specific option that personifies your lively pooch, but you should be on the look-out for certain qualities. You can stick with the cute cheap dog collars and still find fittingly unique collars. For instance, the collar below elevates a boring brown band with just a few pictures of pizza slices. With a quirky design, like the pizza slice adornment seen below, you can find cute dog collars with out spending much money or effort.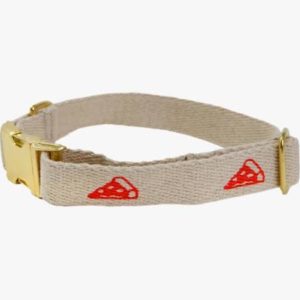 Image Source: barkshop.com
For the unconventional dog:
The unconventional dog acts less like a dog than any canine you have ever met. This dog might look like a cat, pee like a horse, or sleep like a flamingo. Such a dog can not be motivated by treats or entertained by toys. Such characteristics make your unconventional dog the laugh of every gathering, but they also endear it in your heart and the hearts of others. When thinking about what dog collar would reflect this interesting personality, you may be at a loss. But even cute collars for dogs do not always need to follow traditional guidelines. A less popular but very functional harness provides the perfect mix of unique and necessary. Straying just far enough from the norm, harnesses can be cute dog collars for small dogs as well as large ones. They still boast all the abilities of a traditional collar while catering to your unconventional dog.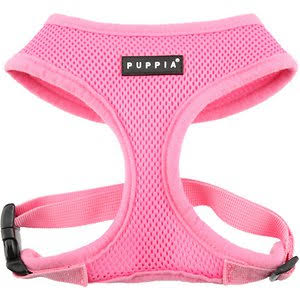 Image Source: chewy.com
Do not waste your time sifting through endless catalogs of dog collars, hoping to find the perfect option by chance. Do not spend a large amount of money purchasing designer dog collars, thinking that is the best choice. The perfect collar does not lie in price but in meaning, in how well a seemingly insignificant dog accessory reflects the aspects of your dog's personality. The above guidelines help to narrow your search based on your pooches personality. Whether you have a traditional, adventurous, trendy, hipster, princess, tough, athletic, techy, funny, or unconventional dog, you can discover cute dog collars with which you will be pleased.