*This post may contain affiliate links. As an Amazon Associate we earn from qualifying purchases.
Large breed puppies develop at different rates than smaller-sized dogs. Wellness Core Large Breed Puppy Food strives to meet the diverse physical needs of large breed puppies. This recipe contains essential grains and proteins needed for healthy growth as well as nutrients necessary for giving your dog a vibrant, shiny coat. Feeding your puppy the Wellness Core diet will not break your bank. Moreover, you will be feeding your growing pup quality ingredients that a reputable company is responsible for their selection.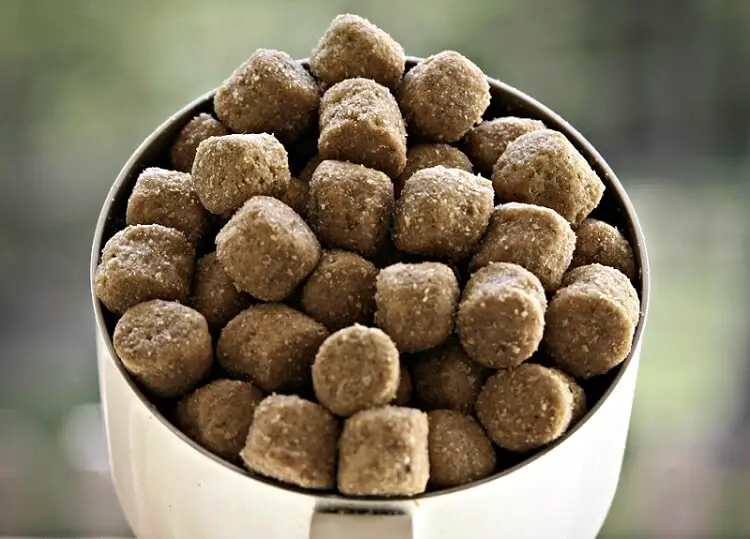 About Wellness Core Large Breed Puppy Food
Wellness Pet Food is a brand that prides itself on pioneering holistic nutrition for animals. The company officially began in 1926 as Old Mother Hubbard. People came to recognize their brand for their dog biscuits. (They had previously made hardtack sea biscuits as the A. Hubbard and Sons bakery.)
Eventually, Jim Scott, Sr. bought this company in 1961. As an animal nutrition specialist, Scott revitalized the company's objective by emphasizing the need to use high-quality ingredients in pet food formulas.
In the late 1990's, Old Mother Hubbard underwent even more changes and became what is now known as Wellness. The Wellness formula always seeks to include healthy, balanced nutrition. Their proposed diet meets the unique needs of different types of adult and young dogs and cats.
Wellness Core Large Breed Puppy Food Ingredients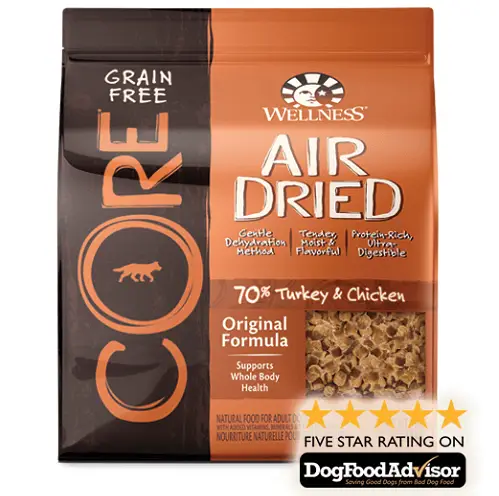 The Wellness Core Large Breed Puppy Food formula is packed with healthy ingredients that will aid in your puppy's development process. Among the included ingredients are deboned chicken, chicken meal, ground brown rice, peas, tomato pomace, salmon meal, spinach, and sweet potatoes.
Chicken meal is extremely high in protein as it contains about 300 percent more protein than fresh chicken. Each source of poultry listed in this formula is easily digestible for most dogs. This benefit alone makes the Core formula the best Wellness large breed puppy food. Moreover, Peas are naturally high in fiber and contain about 25 percent protein. Tomato pomace is also high in fiber.
Among the numerous vitamins and minerals gathered in the Wellness formula are vitamin A, B12, folic acid, vitamin D3, vitamin E, niacin, biotin, vitamin C, and Riboflavin (also known as B2). This recipe also offers extracts of rosemary, spearmint, and green tea.
Wellness Core Large Breed Puppy Food Nutritional Value
Wellness Core Large Breed Puppy food has a fairly well-balanced ratio of protein, carbohydrates, and fat content. The additional calcium in its formula suits the needs of skeletal development in large breed puppies.
Riboflavin also aids in the development of puppies. Biotin and niacin give dogs shinier and stronger coats leading to less shedding. On top of this, vitamin A helps with vision, skin, coat condition, and skeletal development. Vitamin C is a great antioxidant and is a key source for the synthesis of collagen and cartilage. It also plays a major role in bone formation during a puppy's development.
The inclusion of prebiotics and probiotics, which put healthy bacteria in the gut and help keep toxins out, make this food easy to digest for puppies. Moreover, the kibble itself is small and easy to chew. This prevents puppies from choking on large pieces of food while they eat.
Wellness Core Large Breed Puppy Food Pros and Cons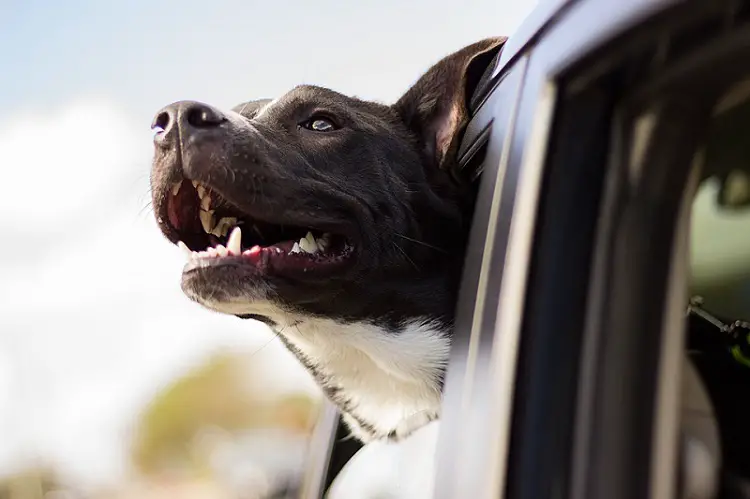 There are some pros and cons that come along with buying Wellness Core Large Breed Puppy Food. First, to address the pros, this brand of dog food contains a significant amount of meat. This is unlike other dry kibbles that are overloaded with grains and other less-healthy ingredients. There is a relatively decent fat-to-protein ratio, and this food contains ingredients that many dogs find them easy to digest.
Wellness Core Large Breed Puppy Food Advantages
Overall, the formula contains a significant amount of healthy ingredients necessary for growing pups. The inclusion of fresh, whole ingredients puts this formula above many of its competitors in terms of nutritional value.
Price-wise, Wellness Core Large Breed Puppy Food leans toward the higher end of the spectrum for dog foods. However, as far as quality goes, you get what you pay for. There are relatively few negative consumer reviews online to indicate that this formula is problematic in terms of causing ailments.
Wellness Core Large Breed Puppy Food Disadvantages
Ingredients-wise, the cons are that a few items on the list are somewhat controversial. Chiefly, tomato pomace is controversial. This element is actually the by-product of tomatoes that have been processed into ketchup, soup, and juice. Some people claim that it is a cheap filler for pet food. However, it is high in fiber. Moreover, it is probably not present in a large enough quantity to present any problem for most dogs.
Since this food is extremely high in fiber, it is advisable that you do not overfeed your dog. Even though your puppy is growing, they should maintain a healthy weight.
Past Product Recalls
It should be noted that the Wellness brand does not have an extensive history of recalled pet food formulas. Wellness had two recalls during 2012. The first, in May, was a voluntary recall of Wellness Complete Health Super5Mix Large Breed Puppy, 15 lb. and 30 lb. bags and 5 oz. sample bags.
These products carried suspicions of Salmonella. Another recall was issued in October for Wellness Small Breed Adult Health Dry Dog Food due to a detection of moisture contamination.
Final Word
Overall, Wellness Core Large Breed Puppy Food is a good choice for supporting the development of young dogs. It is packed with protein, vitamins, and other nutrients necessary for all aspects of healthy growth.
With relatively little in the way of harmful by-products, a minor history of recalls, and mostly positive consumer reviews, it appears that Wellness sticks to its core mission. Their goal is to provide high-quality ingredients that cater to a dog's special needs. If you have not tried Wellness for your dog yet, consider making the switch and see the results for yourself.