*This post may contain affiliate links. As an Amazon Associate we earn from qualifying purchases.
Picking the best food for your canine companion is a very important task. You have to consider the unique nutritional needs of your dog, their activity level, and the quality of the ingredients in the food you are going to be feeding them. The same aspects we kept in mind when writing this Natural Balance dog food review.
It is going to give a bit of information about the company that makes this product and offer an overview of the available product selections. We will also cover important factors like nutritional quality and the ingredients. Towards the end, we will focus on the main pros and cons relating to this brand. By the end, you will know if this product is good for your pet.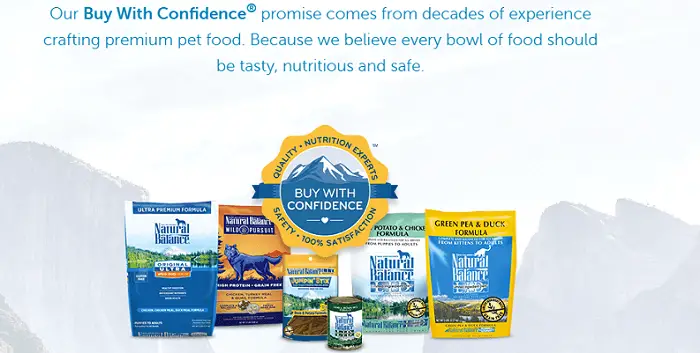 About Natural Balance Dog Food
The first section in our Natural Balance dog food review is going to cover the brand and offer a little bit of information about the food itself. Natural Balance dog food has been around since 1989. The company is based out of Burbank, California.
There are currently over 28 different varieties of dry food alone that Natural Balance offers. For the sake of this review, we are going to focus primarily on this brand's original formula.
This formula provides all of the key nutrients that puppies and adult dogs need to live long and healthy lives. In addition to its complete nutritional profile, the food is subjected to a total of nine different tests throughout the manufacturing process to ensure the food meets quality specifications and is safe for your canine companion to enjoy.
As far as ingredients go, Natural Balance incorporates a wide variety of fruits, vegetables, and meats in their products that are very easy for dog owners to recognize. Pet owners can rest easy knowing their furry companions are eating some of the highest quality food around.
The Whole Body Health Formula, which is the brand's original formula, is available for purchase on Amazon for $47.24 (a thirty-pound bag). Smaller packages are available for purchase as well if you have a smaller dog.
Natural Balance Dog Food Ingredients
The next part of our Natural Balance dog food review is going to focus primarily on the ingredients of the brand. The whole body health formula uses many different wholesome ingredients.
The main ingredients you will find in this recipe are:
Chicken: A high-quality protein source.
Brown Rice: An energy-rich carbohydrate.
Oats: Another carbohydrate that is great for sustained energy.
Chicken Meal: A very potent condensed protein source.
Potatoes: An inexpensive carbohydrate ingredient.
Dried Peas: A protein source with fiber.
Chicken Fat: An excellent source of fatty acids.
Dried Carrots: A great source of beta carotene and fiber.
Duck Meal: Another meat concentrate for protein.
Salmon Meal: Another meat concentrate with essential fats.
Pea Fiber: A great source of both insoluble and soluble dietary fiber.
As you can see, all of the main ingredients are very easy to recognize and provide vital nutrients for your dog. The miscellaneous meat meal types are nothing to worry about. They are basically just meat concentrates that provide a superior amount of protein compared to standalone meat types.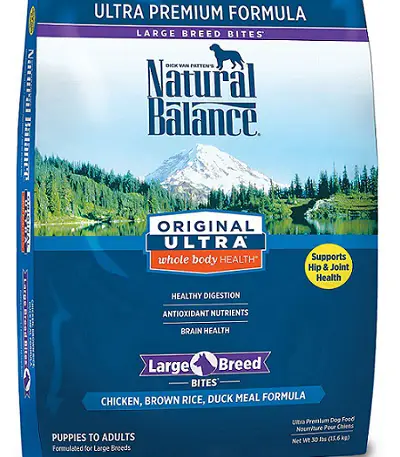 Natural Balance Nutritional Value
For the next section of our Natural Balance dog food review, we will take a closer look at the nutritional values of the brand. The most important thing to remember is that Natural Balance is guaranteed to meet the minimum specifications of AAFCO. This means the food is designed to meet the nutritional needs of adult dogs without any issues.
The nutritional analysis is as follows:
Crude Protein (Min): 23 percent.
Crude Fat (Min): 13 percent.
Crude Fiber (Max): 3 percent.
Moisture (Max): 10 percent.
Natural Balance is an excellent source of high-quality protein and essential fatty acids. In addition to its protein and fat content, it has plenty of important vitamins and minerals like calcium, potassium, vitamin C and more.
Natural Balance Formulas & Available Flavors
The next area we are going to focus on in our Natural Balance dog food review is the different formulas and available flavors.
This brand's original formula comes in four different flavors. They are the chicken and duck formula, the large breed chicken and duck meal with wild rice formula, the venison turkey and lamb formula, and the small breed chicken and duck meal formula.
In addition to the varieties that pertain to this particular formula, there are many other formulas to consider as well. For example, they have options that are vegetarian and weight-loss formulas as well.
Besides their dry food selection, they also offer a dazzling variety of different wet food choices as well. They provide 28 different dry foods and 12 different wet foods. You can also choose from over 17 different canned food varieties as well.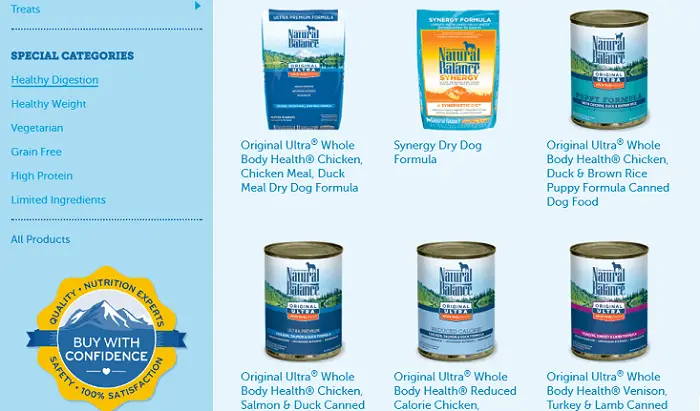 Natural Balance Pros and Cons
This section of our Natural Balance dog food review is going to focus on the main pros and cons associated with this particular brand. We will cover things like the ingredients, pricing, and even the feeding amounts to help you make an informed decision.
The Pros
In the pros part of our Natural Balance dog food review, we will focus on the main aspects that will likely serve as your main motivation for buying this product. If you want to get a quick idea of what the food has to offer, focus on these main points.
Plenty of Variety: The main area where Natural Balance shines is in its variety of available recipes and formulas. They offer a practical smorgasbord of delectable choices that are perfect for just about any furry companion.
Nutritionally Sound: This dog food meets the feeding recommendations of AAFCO. This helps ensure that your dog is getting all of the nutrients they need to live a long and healthy life.
Ingredients You Can Recognize: Pick up a bag of this dog food and the first ingredient you will see will likely be chicken, lamb, bison, or salmon. Dog owners can feel proud knowing their dogs are eating food made from high-quality ingredients.
The Cons
This section of our Natural Balance dog food review pertains to the areas where this brand falls short. Before making a final buying decision, review these points and keep them in mind.
Costly: For a 30-pound bag, you can expect to pay close to $45. This is substantially higher than many of the other bargain brands that are commonly found on most supermarket shelves.
Pea Fiber: Pea fiber is a type of fiber that is often used in foods to supply the dietary fiber that is often needed. Unfortunately, it is considered a lower quality source of both soluble and insoluble fiber.
Feeding Amount: Compared to some other brands, the amount of food required to feed your dog is about average at best. There are other options that require less food per pound of body weight. This further drives up the cost of the food.
Bottom Line
All in all, as you can see from our Natural Balance dog food review, this is a reliable brand that you can trust. For the most part, they use very high-quality ingredients that are very easy to identify on the label.
In addition, they have a wide variety of formulas and recipes that are perfect for just about any dog. Feel free to try the brand out for yourself and tell us about your experience in the comments section.