*This post may contain affiliate links. As an Amazon Associate we earn from qualifying purchases.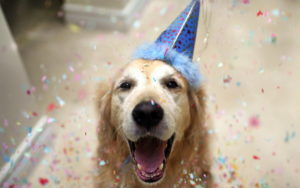 Image Source: 3milliondogs.com
Your furry friends are your closest and most loyal companions, and the best part of leaving in the morning for work every day is coming home to their love and snuggles and excited kisses every night! Dogs are easily excited by the simplest of things: a new toy, a water bottle, an old shoe or towel, the doorbell, a cat scurrying around upstairs. Your pooch may feel a little bit older as the years pass, but may not fully understand the happiness and excitement of a birthday! Of course, you could hide a few treats around or surprise him with a few extra toys. You could go for a little bit longer of a walk than normal, or simply just give a few extra snuggles and praises throughout the day! However, something that would really stick out to your dog as being special and different would be, you guessed it…a doggy birthday cake! There are so many great flavors and sweet recipes you can prepare for your pooch, and we have compiled the to best-loved puppy cake recipes here. Time to get into the kitchen and show your doggie the best birthday he's ever had!
Cake One: Doggie Birthday Cake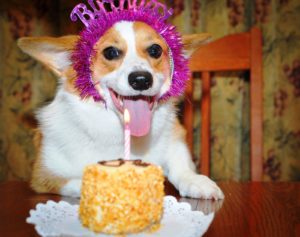 Image Source: blog.ewoodys.com
This smiling pooch is grinning ear to ear due to his sweet and scrumptious birthday treat before him! Here's how it's done…
INGREDIENTS:
1 egg
1 teaspoon of vanilla extract
1 teaspoon of baking soda
1/4 cup of cooking oil
1/4 cup of peanut butter (creamy or chunky, your choice!)
1/3 cup of honey (this is your choice!)
1 cup of flour (whole wheat or white, your choice!)
1 cup of shredded carrots
This simple compilation of healthy ingredients is sure to appeal to your dog, he should gobble it up mighty quick! Here's the cake recipe and how to prepare and cook it for your healthy dog in just an hour and fifteen minutes:
PREPARATION:
Preheat your oven to 350 degrees Fahrenheit.
Grease a ring cake mold or a fluted tube pan or Bundt pan for nonstick baking. You could even make doggy cupcakes in lieu of one big cake!
In a big bowl, combine peanut butter, oil vanilla, and egg. If you are opting to include the honey, this is the step in which you would want to add that to the mix!
Mix these ingredients very well.
Add in the carrots until they are evenly distributed throughout the wet ingredients you began with.
Next, the flour and baking soda should be sifted together.
Fold these sifted ingredients into the carrot mixture.
Evenly pour or distribute the batter you have just prepared into the pan you have chosen to cook it in.
COOKING:
Bake the mixture in your preheated oven for 4o minutes. Avoid over or under-cooking it!
After removing the cake from the oven, allow it to cool in the pan it cooked in for 10 minutes. It will be hot!!!
Transfer the cake to a wire rack to finish cooling before serving it to your pooch.
SERVING:
Be sure the cake is completely cool before serving it to your dog. Their tongues, tastebuds and tail wags with surely thank you.
You can prepare one of the dog-friendly icings to top the cake with here, or you can leave it plain. Your furry friend will appreciate it either way! Make sure the icing ingredients are safe and in moderation when you add them, you don't want your dog to get an upset stomach on their special day!
Insert the appropriate amount of candles into the cake as your dog is old if you so desire. You may have to help him blow them out! Be sure the wax does not drip onto the cake or the icing for obvious safety reasons.
Bib up your pooch and let him have at the delicious cake that you have prepared for him! Serve it in moderation, but let your dog enjoy the chunk that you do give him.
Wish him a happy birthday has well. 🙂
This cake is simple and yummy, and you probably already have a majority of the ingredients for it on-hand at home. It is sweet but not too sweet, and the honey is optional to add an extra layer of sweet flavor. Based on you and your dogs' preferences, add accordingly! You could even jazz up this cake a little bit more by adding in small crunchy bits your dog would enjoy. Consider throwing in some peanuts, cereal, or dog treats! They could add in even more enhanced flavor and texture. Have fun preparing it and experiencing your pooch enjoying his delicious birthday cake!
Cake Two: Dog Birthday Cake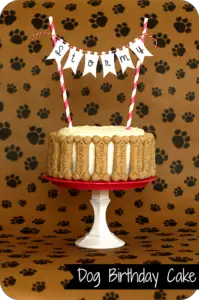 Image Source: keepingmycents.blogspot.com
This dog birthday cake is simple and festive, and will certainly make your pooch feel all the positive effects of turning one year older. This dog friendly cake mix idea is thoroughly explained below…give it a try for the next doggie birthday coming up in your neighborhood! Let's get started…
INGREDIENTS:
1/2 teaspoon of vanilla extract
1/2 teaspoon of cinnamon
1 tablespoon of baking powder
1 slightly beaten egg
1/4 cup of peanut butter (chunky is best!)
1/2 cup of canned pumpkin
1/2 cup of oats
2 1/2 cups of water
3 1/2 cups of whole wheat flour
PREPARATION:
Preheat your oven to 350 degrees Fahrenheit.
Grease the pan you will be using to cook your dog's cake in. You could use anything you like, from a circular layer cake pan, to cupcakes, to a Bundt pan. Choose what would work best for you and your pooch! The original recipe uses a 6-inch pan.
Combine the pumpkin, water, egg, vanilla, and peanut butter in a medium-sized bowl.
Combine the flour, baking powder, oats, and cinnamon in a large-sized bowl.
After combining both sets of ingredients on their own, mix the wet and dry groups of ingredients together well. Be sure the batter is not lumpy!
COOKING:
Spoon the batter into the pan you have selected for baking.
Bake for 35 to 40 minutes, but be sure not to burn it as this will harden the cake and make it tougher for your pooch to chew.
Remove the cake from the oven when it is golden brown, but not overly so. It should be fairly firm.
Cool the cake completely.
Put the cake in an open container, or in a paper bag to store in the fridge until you are fully ready to serve it.
SERVING:
You may choose to add icing to your dog's cake. This is a wonderful idea, and we recommend a small amount of cream cheese icing or peanut butter icing to safely, healthily, and deliciously complement the cake.
If you do choose to frost the cake, you can also decorate the outside with your dog's favorite treats! If you choose to go the cupcake route instead of the whole big cake, you can still top those with their favorite tasty treat!
Pop a party hat on your pooch and serve up this scrumptious birthday treat! This homemade delight should be served in moderation, as your dog is not used to cake in his daily diet.
MODERATION, as mentioned above, is key. It is best to serve your dog just a bit of the cake. Do not feel the need to serve your furry friend the entire thing just because you have prepared it! He will appreciate whatever you give him. The rest can be thrown away or shared with your dog friends around the neighborhood, or other pups should you so choose to host a pet party.
You may also wish to create a banner or plate it up fancily as the photo shows. Don't be afraid to let your creativity flow, and see how thrifty you can be while creating something cute and fun!
This cake is definitely the one for you to choose if you wish to have one that you can use as a base to build off of if you wish to take a more decorative spin on your cake. You could also add any number of mix-ins to this cake to spice in up or add some crunch and flavor! You could add honey to make it even sweeter and perfectly contrast the rich texture of the peanut butter consistency. Really take your dog's likes and dislikes to heart and personalize the cake to their palette for their special day. Enjoy the cake with them and be sure to wish them the happiest of birthdays while enjoying the delicious cake.
Know of any scrumptious dog cake recipes we missed or would love? Include them in the comments as well as your results if you do take advantage of one of the great recipes we have provided above. Be sure to allow your dog to enjoy their day and their treat, but do be careful to let them do so in moderation. The treat should be enjoyed safely as it is not a part of their every day diet and could have the potential to cause them a tummy ache. If you make sure you are attentive and careful, it will be a lovely treat and a wonderful day for all.
Paw-ty on!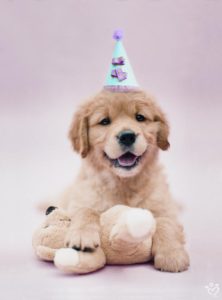 Image Source: pinterest.com