*This post may contain affiliate links. As an Amazon Associate we earn from qualifying purchases.
Iams Smart Puppy Large Breed Food contains all the important nutritional needs for large breed puppies during their puppy growing stages. Owners and breeders of large breeds need to have a well balanced nutritional food that is specifically geared to their particular size and breed. Each package has complete ingredient listings with instructions. The details inform on the amount each dog needs depending on the size and age of the puppy.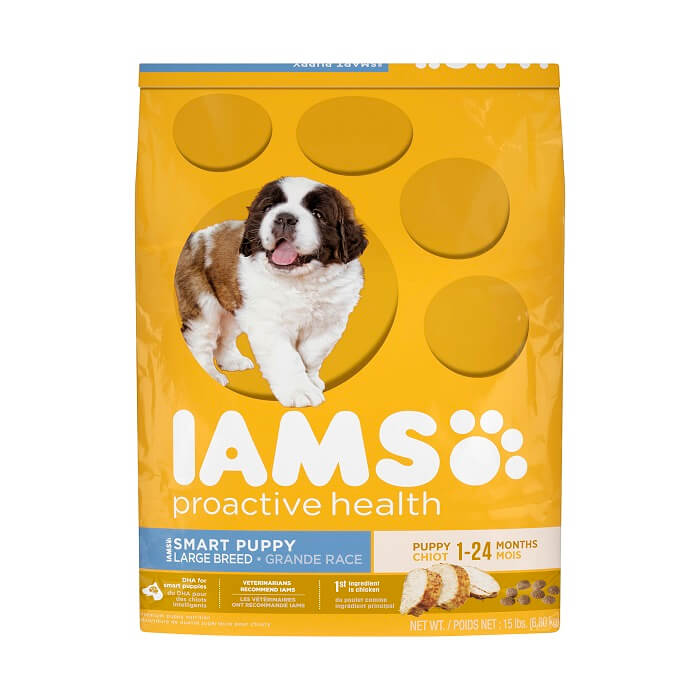 Company Background
Iams Company was founded by Paul Iams in 1946. This is when he decided to make a dry food for dogs that was based on a diet that would be suitable for carnivores. Emphasis was placed on developing a recipe that contained animal protein as its main ingredient.
Iams learned that pet owners would be willing to pay anything for their four-legged friends when he worked as a pet food salesman during the Great Depression. This gave him the idea to develop a quality dog food. The product would serve the nutritional needs with good protein food sources for dogs.
He realized that pet owners were willing to take care of their pets. They would also be willing to purchase a pet food product with meat as its main ingredient, even if it cost a bit more. Iams's idea worked. The result was the first company of its kind to make a dog food in this manner.
All about Iams Smart Puppy Large Breed Food
Iams Smart Puppy Large Breed Food is designed to provide large breed puppies with the optimal ingredients. The diet promotes excellent growth and brain development. This way, they have the healthiest possible start in life.
Iams Smart Puppy Large Breed Food has all the ingredients necessary to give large breed puppies the nutrition they need for proper development. Feeding dogs daily this balanced formula in the proper amount will keep puppies healthy inside and outside for growth and development. The brand also guarantees a beautiful, healthy coat.
Iams Smart Puppy Large Breed – Food Ingredients
Iams Smart Puppy Large Breed Food contains many healthy components. Take a look at a partial list of main ingredients:
Chicken.
Brewers rice.
Corn meal.
Ground whole grain sorghum.
Fish meal.
Fish oil.
Dried egg product.
Brewers dried yeast.
Potassium chloride.
Calcium carbonate.
Minerals.
Assorted vitamins.
Minerals.
Rosemary extract.
Iams Smart Puppy Large Breed – Food Nutritional Value
The formula of Iams Smart Puppy Large Breed Food contains many quality ingredients. This includes Omega-3 DHA to aid brain development for more focused, trainable puppies. Calcium is included to strengthen growing joints.
In addition, antioxidants are added to help strengthen the immune system. Quality protein sources such as eggs and chicken are used to build lean, strong muscle groups.
Each bag has a feeding guideline for puppies which gives food amount suggested according to weight and age. For example, a 10-pound puppy who is between six to eleven weeks old should have two and a half cups of food per day. These amounts are designed to be 100 percent nutritionally complete. Therefore, there is no reason to add any extra nutritional supplements of any kind.
Iams Smart Puppy Large Breed Food – Formulas and Available Flavors
Iams Smart Puppy Large Breed Food Formula comes with one complete formula and flavor for puppies. After puppies grow into adults, their diet can be changed with the Iams Mature Adult Large Breed. This way, pets will continue receiving the optimal nutrition for adult growth.
Iams does offer several different product lines. The company has both dry and wet foods for dogs as well as a selection of dog treats. There are other product lines including the Premium Protection, ProActive Health, and Healthy Natural Lines. The Smart Puppy Formula is also available for toy and small breeds as well as the original formulation.
Iams Smart Puppy Large Breed Food – Pros and Cons
Pros:
Iams Smart Puppy Large Breed Food contains all the ingredients needed to help your large breed puppy grow into a healthy dog. It offers all in one formula. This takes the guess work out of deciding which one to select.
After dogs mature into adults, there is a formula for adults. This way, dogs will continue to receive the necessary nutrition profile.
The Iams formula is considered to be 100 percent nutritionally complete, requiring no supplements.
Cons:
Iams Smart Puppy Large Breed Food comes in only one flavor and formulation.
Does not contain any fruits or vegetables.
Philanthropic Work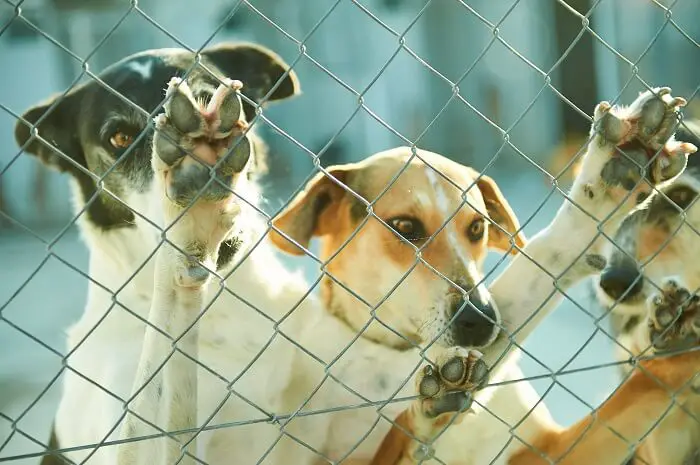 The Iams Company, along with Helen Woodward Animal Center started a special holiday pet drive in 1999 called the "Iams Home for the Holidays" adoption drive. During its first year, fourteen pet rescue centers from the San Diego, California area joined up to get animals placed in permanent homes.
Since the program's beginning, over 4.6 million animals have been placed into homes. Also, as part of this program, the Iam's Home for the Holidays Bags 4 Bowls program was responsible for donating around five million meals to animal shelters in the year 2010. Actresses Hilary Swank and Felicity Huffman are both advocates. Each of them has served as ambassador for this special program.
Final Word
Iams Smart Puppy Large Breed Food is an all in one nutritional option to help your large breed puppy grow up intelligent, strong, and healthy right into adulthood. Visit the Iams Smart Puppy Large Breed Food on the Iams official website for more information and purchasing options. Try Iams Smart Puppy Large Breed Food if you are a breeder or puppy owner for your large breed puppy food needs.