*This post may contain affiliate links. As an Amazon Associate we earn from qualifying purchases.
Are you looking for healthy treats for your furry friend? Halo dog treats are a great choice for health-conscious pet owners! Their ingredients are holistic and entirely nutritious. If you are concerned about the ingredients your dog is consuming, you'll love these!
Halo's treats are freeze-dried portions of chicken and salmon. Avoiding animal products? They also have a vegan option made from pure fruits and vegetables. Along with treats, Halo provides dog chews for cleaning their teeth and freshening their breath. Since the chews are made from real ingredients, they are easy on the stomach and won't stain your carpet!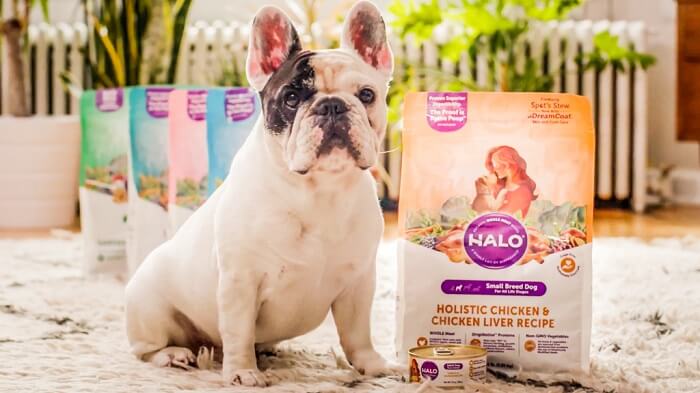 About Halo All-Natural Dog Treats
Holistic Ingredients
Halo dog treats raise the bar when it comes to pure, unaltered ingredients. With these, you won't have to worry another moment about fillers and unnecessary chemicals. The "Liv-A-Littles" treats are strictly just freeze-dried pieces of chicken breast and salmon. Without the additives, not only are they healthier, but they are bursting with flavor! Let's be honest, would a dog prefer anything more than a whole piece of meat?
Halo also offers grain-free vegan treats consisting of fruits and vegetables. You won't lose the taste for a moment with these! Halo's formula utilizes potato and tapioca flour, as well as canola oil preserved with tocopherols for Vitamin E. Additionally, they throw in ground peanuts and a full range of fruits and vegetables. Odds are, your dog will be salivating for these peanut 'n pumpkin flavored treats.
The dog chews are affectionately dubbed "Spot's Chews," and are just as healthy as the treats! To start with, they are gluten-free and cornstarch-free. The chews contain a mixture of vegetables, as well as chia seeds and tapioca starch. The best part is that the combined ingredients create a fantastic scent for helping any popular dog breeds with their breath. They'll love the pumpkin flavor, and in exchange will have cleaner, healthier teeth for it!
Nutritional Value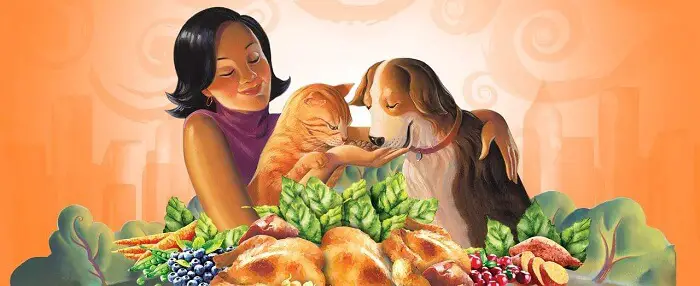 Now that we discussed the ingredients let's focus for a moment on the actual nutrition gained by Halo dog treats. The chicken and salmon treats are whole pieces of real meat. Halo is dedicated to the health of our furry friends and assures us they never use meat substitutes.
The whole pieces of meat are freeze-dried, rather than dehydrated, to preserve the flavor and nutrients. Chicken and salmon both provide high quantities of protein. These pieces contain only a few calories. Further, all of Halo's dog treats are free of artificial colors or flavors.
The vegan treats are grain-free, which makes them a great option for dogs with sensitive digestive tracts. As these are pure fruits and vegetables, they are low-fat and only contain twenty-seven calories each. Additionally, not only are they free of animal products, but the vegetables are non-GMO!
Regarding their sourcing, Halo's goal is to provide the most holistic food nutrition as possible. They use foster farm practices to respect every animal's life cycle. Halo is dedicated to treating all of their animals in a non-degrading manner. They reject the factory farming model, instead, choosing to raise their animals naturally.
Halo assures us the animals are not treated with antibiotics and growth hormones. Similarly, they are against using genetically modified feed. They bear in mind the effect on the environment as well, striving for practices that are sustainable and natural.
Pros and Cons of Halo Dog Treats
Good nutrition can come with a price, and that is something to consider with these treats. Their most affordable product would probably be the vegan treats, at only a few dollars for eight ounces.
The chicken and salmon treats are more expensive, reaching around ten dollars for only two ounces. Though pricey, can you put a dollar sign on your pet's health? Not only will Fido feel better, but you'll have peace of mind from giving your furry friend quality ingredients.
As far as pros go, they far outweigh the price of the treats. No additives, no fillers, no animal testing. These would be great for fussy eaters, and especially for pets with sensitive stomachs. All of the treats are highly digestible due to their completely natural composition. Even the chews are easily digestible, which can be hard to find in other brands.
Fun fact: these aren't just for dogs, cats can enjoy them too!
Sure, these treats are great rewards for good behavior, but it doesn't stop there. Crumble them up and toss them in with your dog's food! This is a fantastic way to entice your picky pet to eat their dinner! The tantalizing aroma will have them gobbling up their food before you know it.
Halo Formulas and Available Flavors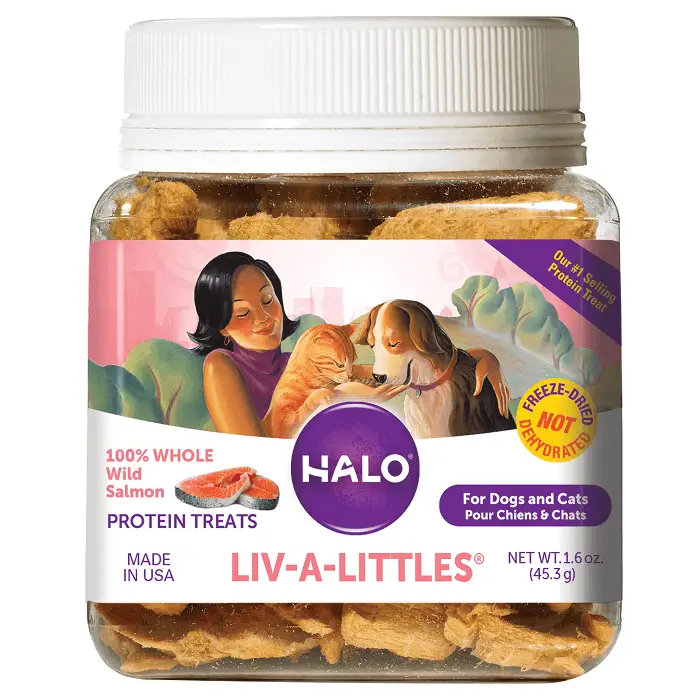 On the Halo website, treats are available in three varieties: chicken, salmon, and the vegan peanut 'n pumpkin. These flavors are purely from real meat, fruits, and vegetables. A fourth variety can be found on Petco's website, however. Listed here, you can find a vegetarian option for peanut 'n pumpkin-flavored dog biscuits. They appear very similar to the vegan treats on Halo's website, though not identical. These treats aren't a new flavor, but they are another option for customers to consider.
As for the dog chews, it appears only one flavor is available. They are primarily of pumpkin, though they do contain numerous fruits and vegetables for health benefits.
As for their formula, Halo suggests smaller dogs under forty pounds eat one per day. For larger dogs over forty pounds, they may eat two per day without concern.
A Great Option
Halo dog treats are undeniably more pet-friendly than the majority of treats on the market. Halo's passionate level of care is hard to find these days. The pure, healthy, and whole standards they bring to the table are seemingly incomparable. People look for the best nutrition for themselves, but what about their dogs? Halo answers the call with treats that will help your pet feel happy, inside and out.
Giving these Halo treats will be even more appealing when you know it's not only tasty but healthy for them! Have you tried Halo dog treats? If not, these delicious and wholesome treats are calling your dog's name! If you have tried them, send us a note! We'd love to hear your story.