*This post may contain affiliate links. As an Amazon Associate we earn from qualifying purchases.
For dog owners considering what to feed their young canine, Blue Buffalo large breed puppy food is an option designed to give larger dog breeds a great start in life by meeting them unique nutritional needs. This food is recommended for weaned puppies up to about one-year-old from breeds like German Shepherds, Great Danes, Rottweilers, Mastiffs, and other dogs like to reach an excess of 75 lbs. in adulthood.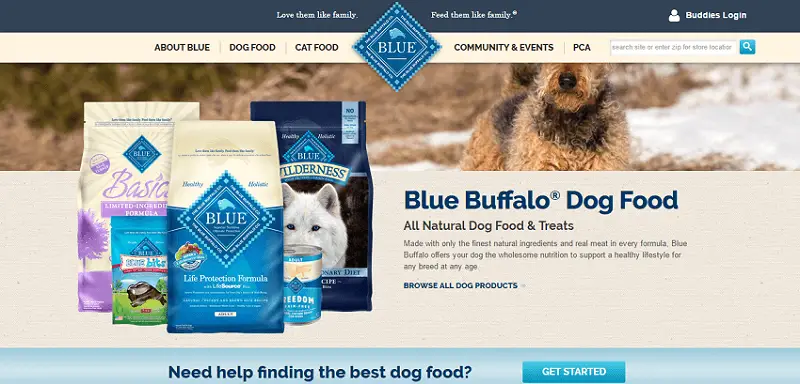 About Blue Buffalo Large Breed Puppy Food
Blue Buffalo is a highly respected manufacturer of dog and cat food that places a strong emphasis on quality, natural ingredients, and pet health. Their slogan is "Love them like family, feed them like family." Their products live up to that.
Blue Buffalo Large Breed Puppy Food Ingredients
The top ingredients in Blue Buffalo Large Breed Puppy Food include:
Deboned chicken and chicken meal as the main sources of protein.
Brown Rice, barley, and oatmeal are high-quality grains that are easy for dogs to digest.
Peas, flaxseed, potatoes and sweet potatoes, carrots, kelp, spinach, pumpkin, and barley grass are recognizable foods that added to the nutritional content.
Blueberries, cranberries, blackberries, apples, pomegranate contribute to both nutrition and taste.
The food has additional ingredients like Menhaden Fish Meal, chicken fat, dried egg, and fish oil to boost protein and omega-3 content.
The recipe also includes supplements that are important to dogs, like vitamin E, iron, and zinc, just to name a few. Most importantly, the top ingredients are natural, recognizable foods, including real chicken as the primary source of protein.
Blue Buffalo Large Breed Puppy Food Nutritional Value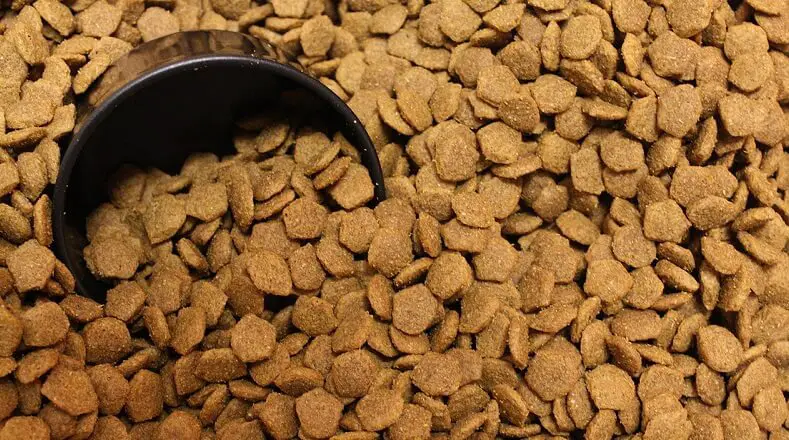 This is a nutritionally sound puppy food that provides just the right amount of protein for growing large breed dogs. Too much protein (more than 32%) can actually cause puppies to grow too faster and lead to problems as they age, including problems with joints and a higher risk of injury. Blue Buffalo Large Breed Puppy Food takes this and other special needs into account with its composition of protein, fat, fiber, and other nutritional components.
Crude Protein 28.0% min.
Crude Fat 14.0% min.
Crude Fiber 5.0% max.
Moisture 10.0% max.
Calcium 1.1% min.
Phosphorus 0.8% min.
Choline 2,750 mg/kg min.
Omega 3 Fatty Acids 0.75% min.
Omega 6 Fatty Acids 2.75% min.
Values for Omega 3 Fatty Acids and Omega 6 Fatty Acids have not yet been established; however, modern canine nutrition suggests that these are necessary components of a healthy diet.
Blue Buffalo Large Breed Puppy Food Daily Required Quantity
How often and much an owner should feed his/her puppy varies somewhat by age, weight, and activity level. In terms of frequency, up to 6 months old, it is recommended that they are fed three meals per day. From 6 to 12 Months, that can decrease to 2 meals per day. After 12 months, many owners continue to feed their adult dogs twice per day.
Blue Buffalo Large Breed Puppy Food bags have a table on the side that shows how much owners should feed their puppy by age and weight. It is recommended that they refer to this chart for specific amounts, measured in 8-ounce cups, to feed per day. Each cup contains 404 Kcals or calories per serving.
Blue Buffalo Large Breed Puppy Food Formulas & Available Flavors
Blue Buffalo has three varieties of large breed puppy formulas. These are Life Protection Formula® Chicken and Brown Rice Recipe For Large Breed Puppies (analyzed above), BLUE Freedom® Grain-Free Chicken Recipe For Large Breed Puppies, and BLUE Wilderness® Chicken Recipe For Large Breed Puppies.
Life Protection Formula® is a great option for a basic, yet natural and nutrient-packed puppy food. The focus of this food is on longevity and overall health for the dog's entire lifespan. BLUE Freedom® is very similar, but totally grain free, which some dog owners prefer. For giant breeds, this may be a slightly better option due to less protein, for less stressful growth spurts, and fewer potential allergens.
BLUE Wilderness® is also grain-free, but this formula has a higher protein content. This feed is designed to recreate the diet of wolves much in the same way as the Paleo diet works for humans. Adult versions of all of these are available, so owners can easily transition their puppy to an equivalent adult dog food when they are ready – generally at one year of age or slightly later for giant breeds.
Blue Buffalo Large Breed Puppy Food Pros and Cons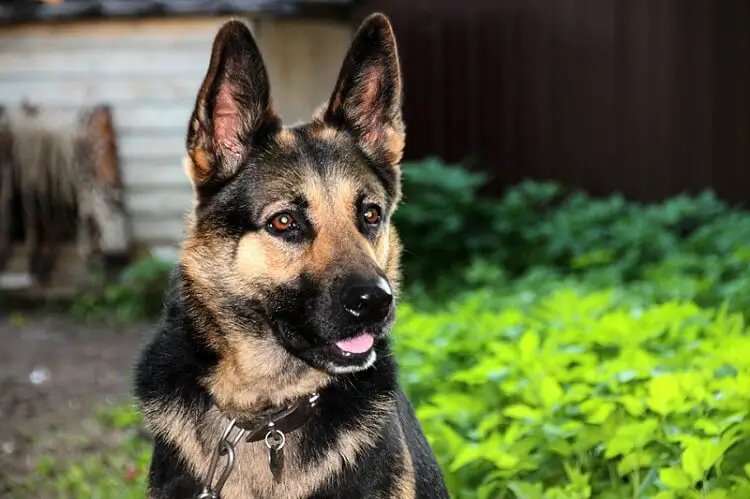 Pros for Blue Buffalo Large Breed Puppy Food
The quality of ingredients in this puppy food is hard, if not impossible, to match in commercially produced dog foods. Even raw dog food diets may fall short. Plus Blue Buffalo has grain-free options available for dog owners who prefer an even more natural diet for their puppies.
Blue Buffalo is widely available in pet supply stores and online, making it easy to find and easy to compare side-by-side with other brands. Many dogs seem to like the taste.
Cons for Blue Buffalo Large Breed Puppy Food
Unfortunately, Blue Buffalo Large Breed Puppy Food can be quite expensive, whether purchased online or in the store. A 30 lbs. bag generally ranges from $45 to $55, depending on the individual retailer. Amazon generally offers this size at a competitive price.
Some owners may find that their puppy is sensitive to the higher protein of the BLUE Wilderness® formulation, which can cause stomach upset or diarrhea. This is relatively uncommon, but something to watch out for. Switching to the Life Protection Formula® or to BLUE Freedom® should resolve this issue.
In conclusion, Blue Buffalo Large Breed Puppy Food is a solid choice for owners of large breed puppies who are looking for a high-quality kibble to feed their pet. The ingredients are high quality and well-suited to the unique needs of growing large breed dogs. While this brand isn't cheap, owners can definitely see where the money goes and feel satisfied that they are giving their puppy the best start in life. Blue Buffalo Large Breed Puppy Food is worth the try if you want to have a happy and healthy puppy.