*This post may contain affiliate links. As an Amazon Associate we earn from qualifying purchases.
We've all been there. We get a new puppy, and they are so cute and lovable and cuddly and you think nothing could go wrong….UNTIL the unspeakable happens- your puppy either uses the bathroom inside the house or starts chewing on anything they can get their little teeth on. If you want to learn how to potty train your dog, be sure to check out our potty training article, but if you're looking for the best dog teething toy, this is the place to be. I've found some of the most effective and cheap dog toys you can get that will not only keep your dog entertained, but it will keep their teeth from being please they shouldn't.
Kong Toy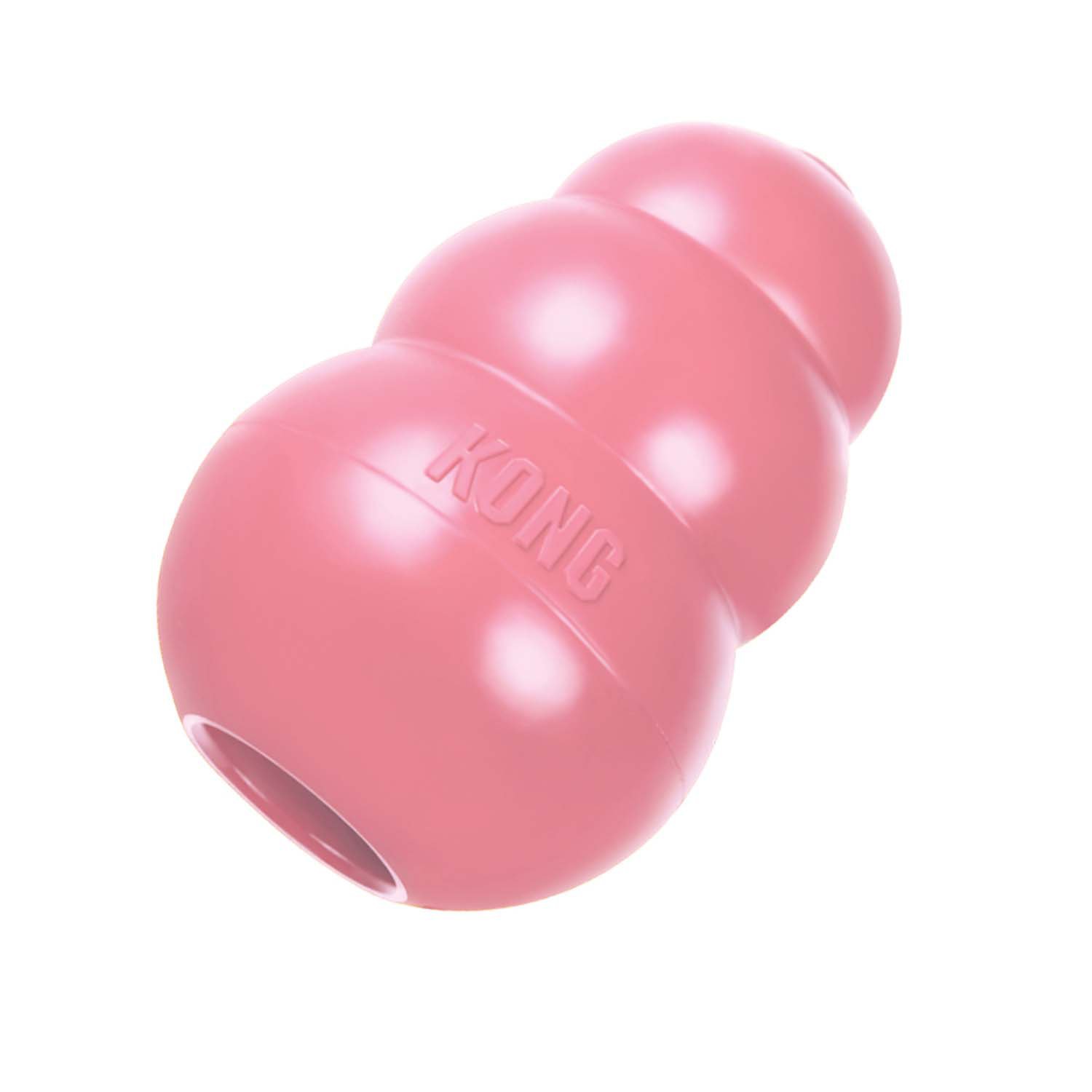 Image Source: petco.com
The Kong toys are one of the best toys to get your puppy to stop chewing on everything imaginable. These are so effective because they're not only chewy, but you can stick dog treats or peanut butter inside them. The chewiness will not only keep them entertained, but it will also keep them intrigued until they can get the treat or the peanut butter out of the inside of the Kong toy. These toys come in multiple sizes for all sizes of pets! Prices can range from anywhere to $5 to $12 and you can find it at petco.com.
2. Kong Puppy Binkie Toy
Image Source: kong.com
This Kong Puppy Pinkie Toy is not only cute and perfect for a little puppy, but it's also effective! Just like the Kong toy above, you can use this toy as well to put treats inside and keep your dogs attention focused on the toy for hours. This toy is meant to promote healthy chewing habits and will improve gum health overall. Your dog will love this toy and you can get it for only $6.29 on petco.com!!
3. NylaBone DuraChew Wishbone
Image Source: chewy.com
This is a unique toy because of it's shape. The shape of this toy alone with keep the dog invested for hours. However, this toy has many great features. It comes in multiple sizes, so any dog can enjoy this toy. It also has bristles that form when your dog chews on it that keep the gums very healthy and the teeth very strong.  You can't go wrong with this toy because it's beneficial to your dogs health and will keep them entertained for hours! Purchase this dog toy for only $3.99 from chewy.com.
4. Nylabone DuraChew
Image Source: petmountain.com
This is another wonderful and efficient teething toy from chewy.com!! The bone shape may not be the most intriguing, but it definitely has it's benefits! This bone is made to last a good bit because of the nylon in the bone! It also contains real meat juices which will keep the dog's attention and will keep them always coming back for more! In addition, this bone comes in a vast array of different sizes to fit the size of your dog, so that he or she can have the perfect size for playing!! This little gem can be purchased from chewy.com for just $5.49!
5. Nylabone Teething Bone
Image Source: petsmart.com
This bone is made specifically for small puppies! This toy is guaranteed to keep your puppy's mouth from wandering and will keep them chewing on this toy for hours and hours. It will be sure to ease the pain of their teeth growing in and will keep their little baby teeth clean at the same time! It's also very durable due to the fact that it's made of polyurethane. Just like other toys, these come in different sizes to fit the perfect dog! You can snag this toy for only $3.19 or $7.86, depending on the size you want to get for your dog! Be sure to go to petsmart.com to check out this awesome dog teething toy!!
6. Nylabone Puppy Teething Keys
Image Source: pertsmart.com
Just like kids love keys, puppies do too!! This toy is great to use because it's designed specifically to help control plaque and tartar on your dog's teeth! However, this toy is not meant to be used by dogs with a strong bite or adult teeth! These dog teething key toys will also decrease their want to gnaw on other things that shouldn't be chewed on, like furniture or shoes! This toy can be purchased for only $6-$10 on petsmart.com!
7. Knit Monkey Teether Puppy Toy
Image Source: petsmart.com
This monkey teething toy is not only cute, but fun! Like a lot of the other toys, this toy is mainly intended just for puppies. It's soft, durable, and very flexible, allowing your puppy to easily pick it up, and play with it! This toy also helps clean the plaque off of your puppy's teeth. There is added fun for this dog toy because there is a squeaker inside for your dog to play with. There are also very long arms and legs that allow you to grab onto in order to play some tug-of-war with your little puppy. Thankfully, such a great toy can be purchased at petsmart.com for only $6.99!
8. JW Pet Invincible Chain Dog Toy
Image Source: petsmart.com
This is a unique toy that can be used to play with your dog as well as keeping them nice and healthy. No matter how much you and your little pup play tug-of-war, this chain will not break because it's made of durable rubber! In addition to being durable, the dog's teeth will remain nice and clean because the rubber will clean them! Overall, this toy is fun for you and your rambunctious little dog!! Pick this up at your local petsmart.com or online for about $10-$13!
9. Hagen Dogit Knotted Rope
Image Source: amazon.com
This toy is great for interaction between you and your dog! After getting this toy, all your dog will ever want to do is play with it! It's great to play tug-of-war with, but it's also a great toy to teach your new dog old tricks, like fetch! If you buy this, you will be guaranteed healthy puppy teeth and it will keep plaque and tartar buildup to a minimum! You can buy this handy dandy dog teething toy for only $7.99 off of amazon.com.
10. Benebone Bacon Flavored Wishbone
Image Source: amazon.com
This dog teething toy is meant to have a a unique wishbone shape so that dogs can get a better grip and grab on their dog toy. They also get a good bite with all of the grooves in the bone. It's also made from nylon to keep the toy extra durable. Not to mention, this toy is made with 100% real bacon in order to provide a great scent and taste for your dog so that it keeps their interest. Overall, this is a great toy for teething pups and dogs so that they stay interested with the delicious smell and taste of bacon, and it's better knowing that you only spent $11.59, buying from amazon.com.
11. Squeezz Stick
Image Source: whitedogbone.com
Kong has a long line of squeezz products to pick from, but one of the originals is just the standard squeezz stick! This toy is great for playing fetch or just letting your dog play by themselves. If you get this, it will keep your dog intrigued by the squeaker that is inside, but it won't be loud or annoying so that the owners don't have to deal with it. Overall, this is also a great dog teething toy because like others, it cleans your dogs teeth while they're just having fun. Purchase this squeezz toy for only $9.09 from petco.com!
12. Multipet Chilly Bone
Image Source: whitedogbone.com
This is definitely an interesting toy for your dog! It's meant to be a multipurpose teething toy for your puppy! It's great for teething because it keeps gums healthy and teeth very strong, and it's also built to last and be durable! However, if you just wet it, place it in the freezer and wait for it to freeze, it becomes a great toy to cool your dog down on a hot day, as well as help soothe their teeth. Overall, this dog bone is a win-win because it has multiple ways to keep your dog entertained and happy, as well as you because your dog has clean teeth! If you want this toy, you can purchase it for only $3.99 on chewy.com!
13. Petstages ORKA Bone
Image Source: whitedogbone.com
Petstages ORKA bone is perfect for teaching your dog not to chew on anything they see! It has a variety of different textures that will clean your puppy's teeth in no time. The rope will remove all of the soft tartar around your dog's teeth, and the textures will give your dog's gums a massage to keep them nice and healthy! It's also sufficient in exercising your dog's jaw and keeping it strong! If you want this dog teething toy, go check out chewy.com where you can buy this for only $3.99!
14. Tux Treat
This dog teething toy is very cool because it is HIGHLY durable. Even after your dog stops teething, he can use this toy for a long time! It's interesting because this toy can be used to play catch, fetch, or can ever go in the pool and float! This is a great toy for a dog of any age and is reviewed to be able to withstand any rigor that a dog will put it through! You can buy this toy online from westpawdesign.com for $18.95.
All-in-all, you need dog toys that will withstand anything your dog puts it through. The most important part in buying a dog toy though is finding ones that will keep your puppy's teeth nice and clean. You want to look for toys with a lot of texture that will get rid of tartar and plaque on their teeth. Hopefully, this article helped you find the best dog teething toy so that you can save your furniture and shoes from your dog's jaws of terror!