*This post may contain affiliate links. As an Amazon Associate we earn from qualifying purchases.
Sometimes our furry friends just have to go in the middle of the night. Whether you live in a busy city or a quiet area, a reflective leash is added security and peace of mind during these nocturnal adventures. Finding the best reflective dog leash doesn't have to be an overwhelming challenge.
The materials used, durability, and overall quality should be considered before buying your reflective dog leash. The list below of our top reflective dog leash products will get you going on your search. The leashes included are listed by price from highest to lowest.
*The leashes included in this article are listed by price, from the highest to the lowest one.
1. GlowHero Reflective LED Dog Leash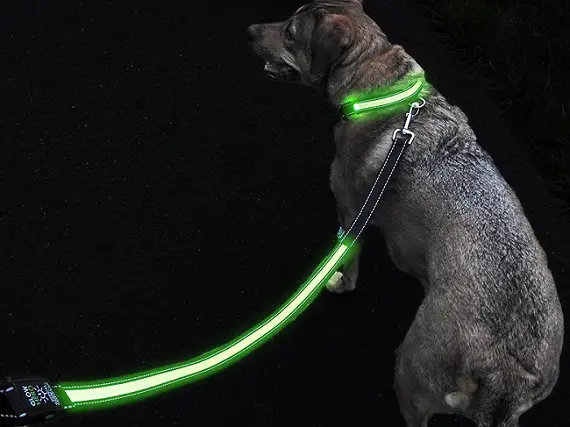 Features
This GlowHero reflective leash is truly dazzling with its LED features. If you prefer, the stitching is also highly reflective without the lights on. The nylon is water resistant and is sewn to protect the battery case from moisture. Available in three colors, this product is a unique reflective dog that really shines.
Pros
This reflective leash is water-resistant.
It comes with LED lights.
The GlowHero dog leash is available for purchase in multiple colors.
Cons
Battery life with regular use.
Only available in 4-foot length.
Price: $19.95.
2. Pawtitas Reflective Dog Leash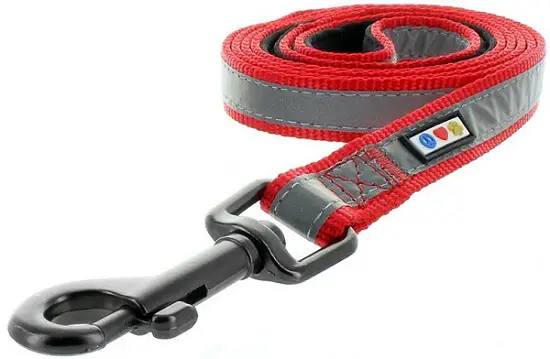 Features
The Pawtitas is a padded reflective dog leash that is available in 5 or 8 feet lengths. The handle is padded for added comfort and security. This product is reinforced for durability and strength. The reflective material used in the stitching is designed for visibility in the lowest light situations.
Pros
This reflective dog leash comes with a durable reinforcement.
It provides a great visibility.
Is equipped with a comfort handle with extra padding.
Cons
Price: $16.99.
3. Max and Neo Double Handle Reflective Dog Leash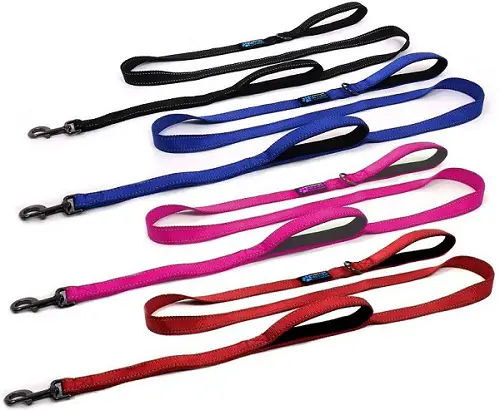 Features
The Max and Neo leash is good for those who need a double handle product for walking in high traffic areas. The company donates one leash for each leash sold to dog rescues around the US. The material is thick and durable. Both handles are padded for comfort and a secure grip. This product also has a D-ring clip near the handle for waste bags. The impressive lifetime warranty offered by this company includes chewing damage.
Pros
Made from high-quality materials.
Has two handles for extra control.
It comes with clips for waste bags.
Comes with a warranty that includes chewing.
Cons
You must register to receive the lifetime warranty.
Reflective stitching is thin compared to the width of the leash.
Price: $16.99.
4. SafetyPup XD Reflective Climbing Rope Leash
Features
This SafetyPup product is made from durable climbing rope material with reflective colors insertions. You can purchase the SafetyPup XD in a 4 or 6-foot version. The heavy duty clip is built for quick and secure latching. The company offers a 100% money back guarantee on all of their products.
Pros
It sells with a high-quality climbing rope material.
This leash comes with a new and improved clip.
Double rope construction used.
Cons
The handle can be difficult for some users.
Reflective tape is surface level and can wear off with time.
Price: $15.99.
5. Castlerock Pets Reflective Twin Handled Training Leash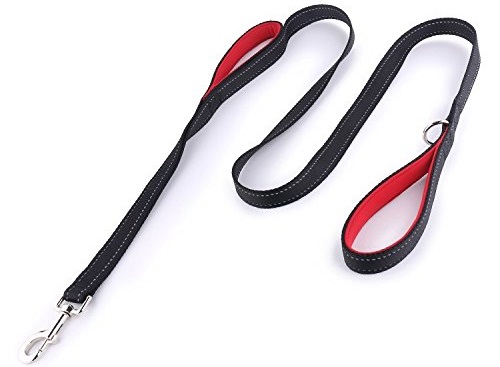 Features
This Castlerock training leash will help you keep control while helping your dog adjust to walking with you. The reflective stitching makes this leash safe for walks any time of day. The neoprene material is non-slip when wet and durable with normal use. The leash has a heavy duty clip and a ring near the handle for waste bags.
Pros
This reflective dog leash comes with a double-handles feature.
It has a D-ring for waste bags or other accessories.
Cons
Because this is a new product, it has limited feedback.
This product's reflective coating is only on one side of the leash.
Price: $14.95.
6. Arikon Padded Reflective Leash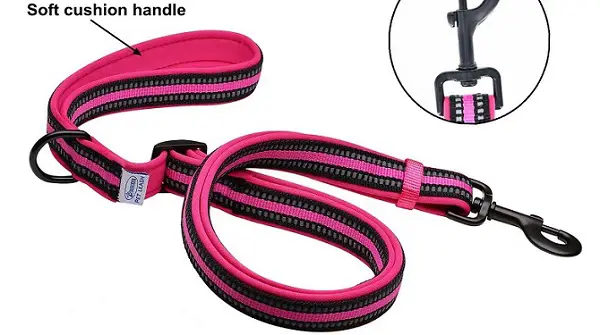 Features
If you are looking for a reflective dog leash designed for training and walking, the Arikon is a great choice. This leash is thicker than most comparable products. That combined with the secure clip means you have maximum control over your dog at all times. The padded handle is designed to prevent rope burn if your dog is a puller. The length of the leash can be adjusted. The company offers a 100% money back guarantee.
Pros
This product's high-quality reflective stitching is made to last.
It has a thick construction for durability.
This reflective dog leash comes with padded handles for extra comfort and hand protection.
Cons
Unclear if guarantee includes chewing.
This reflective dog leash is not designed to hold up to chewing behaviors.
Price: $9.99.
Putting It All Together
Choosing the perfect reflective dog leash shouldn't be a chore. With so many options on the market, it can be tough to figure out which products are worth the investment. The guide above will help you decide which product will meet your needs and the needs of your dog.
The reasonable prices and varying features will set you on the right path in your search. Make sure you know if the company offers a guarantee and how the reflective features have been attached to the webbing. Also, keep an eye out for products that have extra features like anti-slip and water resistance.
Do you own a great reflective dog leash featured above? Let us know how you like it in the comments below! We would love to know what your favorite features are and what you would improve for future models.
Image source: 1