*This post may contain affiliate links. As an Amazon Associate we earn from qualifying purchases.
With most of the puppy food brands claiming to be the "best," puppy owners are often confused about which brand is the best food for puppies. The first rule of thumb puppy owners should know about feeding their growing companions is that there are differences between the nutritional needs of an adult dog and a puppy. It is important to purchase puppy food that has quality ingredients and a specialized diet formula, both of which lead to raising healthier puppies.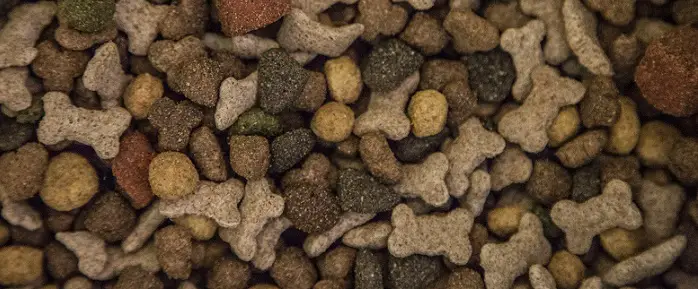 Dog food companies that develop quality puppy food constantly conduct research on canine nutrition and upgrade their puppy food formulas. Editors at the popular dog food blog site dogfoodadvisor.com, have posted that the best food for puppies should not include chemical preservatives or artificial colors. Furthermore, the meat or fat protein content should not be listed with the accompanying word "generic."
The best food for puppies should be made with significant portions of real meat-based proteins along with the proper percentage of quality carbohydrates and animal fat proteins. Petmd.com posts that dry kibble is the best type of puppy food to feed growing puppies because it contains a substantial amount of meat protein. The following alphabetized list of dog foods has been rated as the best foods for puppies based on their quality ingredients, cost-effectiveness, support of oral hygiene, and digestibility.
The best food for puppies should not put a strain on puppy owners' wallets. Each of these brands averages $40 to $50 for a 30-pound bag and can be purchased from Amazon.com, Petco.com, Chewy.com, and any local PetSmart.
Top 10 Best Food for Puppies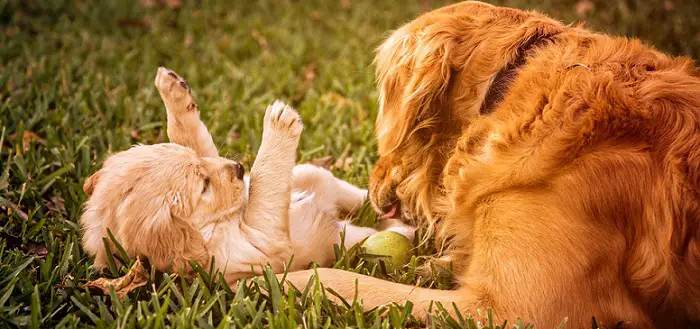 #1. Blue Buffalo
The Blue Buffalo dry puppy food line offers 11 types of puppy food made with all natural ingredients. Blue Buffalo is considered one of the best brands because its puppy foods are made with cold-formed food bits, a process that maintains the nutritional content of the food while in storage. Dog breeders and puppy owners approve of the Blue Buffalo puppy food line because the food consists of the finest natural ingredients, vitamins, minerals, and antioxidants.
#2. Castor and Pollux Organix Puppy Food
Castor and Pollux Organix Puppy Dry Food is another great puppy food brand to feed growing puppies. This brand is all organic and boasts a substantial amount of high protein poultry meat and fiber content. Puppy owners rate this dry puppy food as a great choice for picky eaters and puppies with sensitive stomachs. Castor and Pollux Organix has added a specially formulated Omega 3 composition to promote healthy skin.
#3. Eagle Pack Puppy Formula
Eagle Pack Puppy Formula contains the required daily amounts of protein, animal fat, and fiber puppies need to grow big and strong. Specially formulated for large and giant breeds, puppies seem to really enjoy the taste. Made with lamb, chicken, fish, brown rice, and oatmeal, Eagle Pack puppy food also contains glucosamine hydrochloride to support joint health and dried vegetables to optimize vitamins and minerals. Eagle Pack's dry kibbles are made larger to promote a puppy's chewing abilities.
#4. Earthborn Holistic Puppy Vantage
Earthborn Holistic produces its puppy food with all natural ingredients to include flaxseed. Puppy Vantage is formulated to provide puppies with the nutrition and energy they need for growth and play. The kibbles are grain-free and provide puppies with the necessary amounts of DHA proteins, carbohydrates, calcium, and phosphorus. Puppy breeders give Earthborn Holistic five of five stars because of its environmentally friendly manufacturing practices, and its products have never been recalled.
#5. Fromm Gold Holistic Puppy Food
Fromm Gold Holistic is made with duck, chicken, and lamb. Salmon is also added to promote healthy skin and coat. Fromm Gold Holistic puppy food also contains whole eggs and real cheese to increase its protein content. The addition of vitamins, minerals, and probiotics aid in digestion. This brand prepares dry kibbles in small batches to ensure flavor and freshness.
#6. Holistic Select
Holistic Select's puppy food formula is packed with probiotics, natural fibers, and digestive enzymes. Holistic Select's puppy food is formulated with chicken as the only meat product to minimize allergic reactions and promote digestion. Holistic Select believes the best food for puppies should be bundled in environmentally friendly packaging.
#7. Natural Balance
Natural Balance Puppy Formula is made with lamb protein. The formula also includes rice bran and brown rice to aid in digestion, as well as salmon to enrich the food with positive Omega 3 fats. Breeders of small dog breeds state Natural Balance's pellet size is the best food for puppies because it accommodates growing teeth. This brand is also a great option for puppy owners who desire a product line that accommodates a puppy's stages of growth.
#8. Orijen Puppy Grain-Free
Orijen puppy food only contains the most natural proteins, such free-run chicken and turkey, whole eggs, and wild-caught fish. To aid in growth and development, Orijen's grain-free puppy formula does not contain preservatives and includes sustainably farmed fruits and vegetables. Ingredients arrive fresh daily to ensure product quality. Packed with 38 percent protein and 20 percent low-glycemic carbohydrates, Orijen is specially formulated to nourish medium-size and small breed puppies and promote healthy blood sugar levels.
#9. Taste of the Wild
The key ingredients included in Taste of the Wild puppy food are buffalo and lamb meats, sweet potatoes, and blueberries. This puppy food's special combination of fruits and meat protein supports a well-rounded diet for growing, energetic puppies. Veterinarians approve Taste of the Wild because it is grain free and contains no artificial colors or flavors.
#10. Wellness Complete Health
Wellness Complete Health puppy foods are made with chicken, salmon, and oatmeal. Its formula also contains DHA to promote eye and brain development. The Wellness brand contains 100 percent of the daily nutritional requirements a puppy needs to grow healthy and strong. Formulated to aid in the conditioning and maintenance of optimum body weight, Wellness is just what puppies need to get through the day.
Bottom Line
The American Association of Feed Control Officers (AAFCO) reports that the best food for puppies should contain at minimum 21 percent protein, 8 percent animal fat, and 4 percent fiber. Each of the listed puppy brands can be categorized as the best food for puppies because they contain these requirements, as well as calcium and other essential vitamins to support growth.
It is important for puppy owners to purchase food that has been formulated this way to promote digestibility and positive growth. Before deciding on any of the listed puppy food brands, puppy owners should consult their local veterinarians about which of the listed brands is the best food for puppies of varying breeds.