If you looking for the best dog wash products and equipment or the best techniques to wash your dog, or even how often you should wash your dog you have come to the right place. We will teach you the best services to use and the most efficient way to wash your dog. Washing dogs can be tricky sometimes and can be difficult to get a firm grasp of. With certain products to assist this, the process can be much simpler and easier to get done. Washing your dog is not limited to these services and products, for washing a dog can be quite simple if you do it at all. These just make that a whole lot easier to accomplish.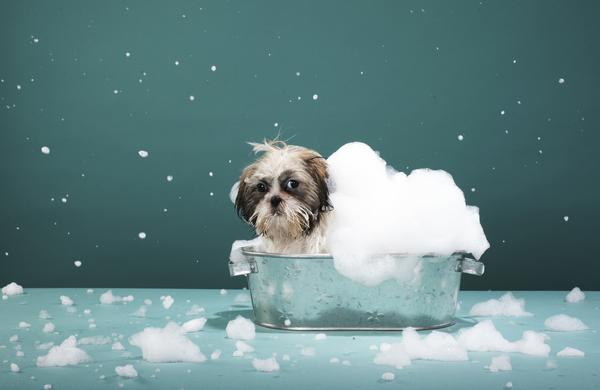 Source: https://www.bosistos.com.au/blog/64
You might be wondering how often you should wash your dog. The simple way to put it is not too often. Dogs should not and are not supposed to be washed all the time.  There is a reason that dog fur works so well for them. The natural oils need to remain soft in order for the fur to maintain its function. If you wash your dog too often, then the natural oils will be stripped from the animals fur. Typically, when the dog needs a bath, you will know for sure. The dog will either be noticeably dirty or smell awful, and thats usually when you decide to give them a bath. If that is every couple weeks, every other month, that is okay as long as your dog remains clean and the natural oils stay in their fur.
If you don't want to bath your dog in your own bathtub or home, there are self serve dog washes available in several locations. To find one near you, make sure you have your location turned on while searching for self serve dog washes near you. If you do this correctly, the closest self serve dog washes near you will pop up with directions, distance, and information. Places like Pet Depot, My Furry Friends, and Top Dog Self Wash are places where a self service dog wash can be found. For those K9's who refuse to let strangers groom them and touch them and are only comfortable around their owner, this is perfect. The mess is cleaned up by the facility in which you used to wash your dog. All you need to do is pay for the space. They give you the shampoo, conditioner, towels, aprons, and more. There is not a time limit to the bath as long as you remain washing your dog the entire length of time. The size of the tub is designed so all types of dogs can fit in. Wash your dog and they'll clean up the mess at no extra cost than what you came in for! This "Do it yourself dog wash" is extremely useful for those who do not have the materials to bathe their pup.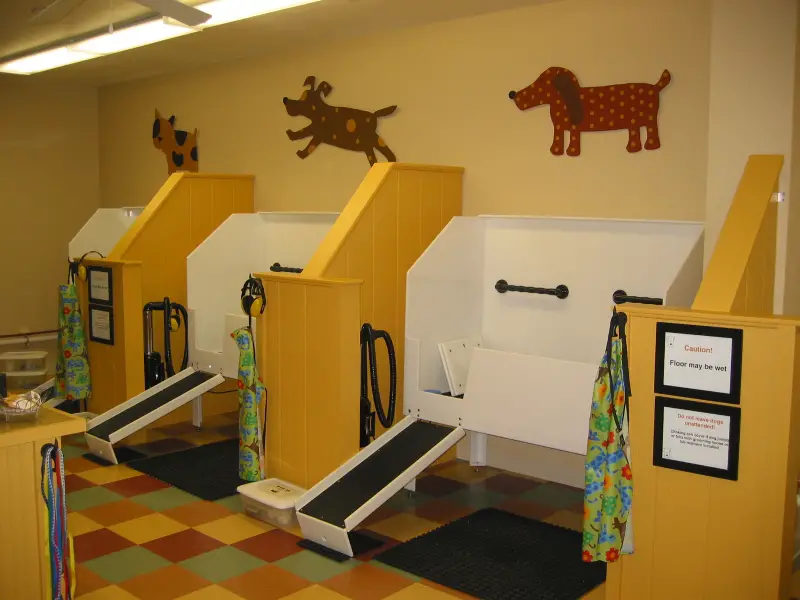 Source:www.selfservedogwash.com
There are so many options for dog washing that are mobile, easy, and portable. Mobile dog washes are nice for those who are always on the run and come across a mobile dog wash. The initial idea of your dog getting into the back of a van to get washed is rather sketchy but can be judged and trusted based on the company and the logo. Mobile dog washing happens outside your work or home and moves it to a mobile vehicle.
Source: http://www.mobiledoggroomingvans.co.uk/vans.html
In the back of these devices, there is a full dog washing set up. It may or may not be more expensive than a home dog wash or a self serve, just because of the limited materials and dog washing tools available. The dog wash tub is in the back of the trailer or the van and is made readily available for grooming any type of dog at any point in the day.
This video explains all about a mobile dog washer and how exactly it works. Check out the 5 minute clip to see how efficient this mobile washer can be.
Woof Washer 360: Woof Washer 360 is a system used for washing dogs of all sizes. This is a device that can be hooked up to a hose and then transferred to the magic that washes your dog in barely any time at all! Watch this video to see how the woof washer works and how it can be executed the correct and efficient way.
Keeping your dog clean using the most efficient methods is a key to a dogs happiness. A clean dog is a happy dog, and an easy way of doing so is a happy owner!
Trying to find the perfect dog wash tub?
If you are planning on buying a tub, here are some of the best ones out there. Some tend to be on the more expensive side, but if you buy one good one, then you will not have to ruin your bathtub overtime you'd dog needs a bath and the types that are expensive are the types that will last you for the rest of your life. They also come with special features and easy to use tools. These dog wash tubs can be used not only for bathing but for grooming too.
If you run a home dog wash business, then obviously you will want to buy one of the nicer tubs that can be installed into your water system and so forth, but if you just have one dog that you wash every so often, it is suggested that you buy a cheaper and more portable one, which are available almost everywhere.
PolyPro Lift Grooming Tubs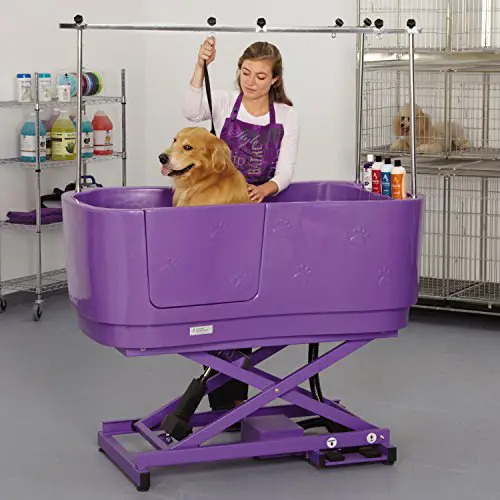 Source: www.yourlovingpets.com/aqua/shower-bath-accessories
This tub is very much on the expensive side, offered at a little over a thousand dollars. It comes in blue, ivory, and purple. This tub is a great buy because it is adjustable and can be hooked up. You can lower the tub to get the dog in and then shut the doggie door and lift to your specific comfort height. It is designed to lift heavy dogs in order for a better wash and maximizes the function of the dog wash tub.
Click HERE to read the reviews on this product.
Professional Stainless Steel Dog Pet Grooming Bath Tub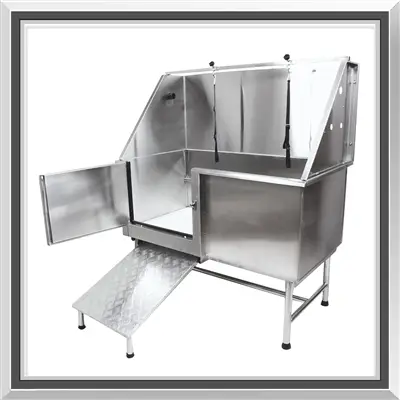 Source: www.flyingpiggrooming.com
This dog tub is rather expensive as well but is certain to show it's worth. The stainless steel 62" tub can hold dogs of any size. Click HERE to buy this tub and add it to your cart. Sales on this tub are offered every so often up to 50% off! These usually ship within 48 hours and cost a decent amount to ship to your house solely based on the size.
Many accessories are included in the purchase, increasing the value of the whole purchase. The only accessories that are not included are a faucet, sprayer, and a shampoo protect rack, but those can be easily made or found. This can either be a self serve dog wash in your own home or can be ordered for a grooming business or dog wash store. These typically are the ones that are found in the name brand stores like PetCo or dog grooming businesses.
Portable Dog Bath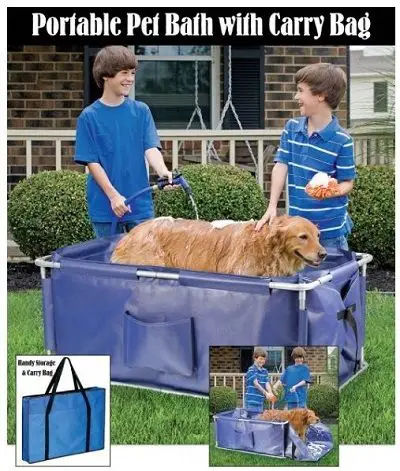 Source: http://www.dog-bath-tub.com
This tub ranges at about 40 dollars and is easy to use and portable. The fast pop up dog tub "mini dog tub station" is efficient and takes almost no extra time and effort to use. The size hold all kinds and types of dogs and is home safe.
Click on the link below to see a range of different dog tubs that can be used in your own home with little cost. Each description also offers a link to get you to the correct place to buy the tub. Click on the link to find your best fit.
http://www.dog-bath-tub.com/dogbathtubbasic.html
dog wash station, dog washing station, self dog wash self service dog wash near me, how to wash a dog, self serve dog wash near me, dog ear wash,, dog wash tub, self dog wash near me, ear wash for dogs, the dog wash, ollu dog wash, self wash dog, dirty dog wash, dog washing, do it yourself dog wash near me, dog self wash, sloppy dog wash, two brothers dog wash, wash your dog