*This post may contain affiliate links. As an Amazon Associate we earn from qualifying purchases.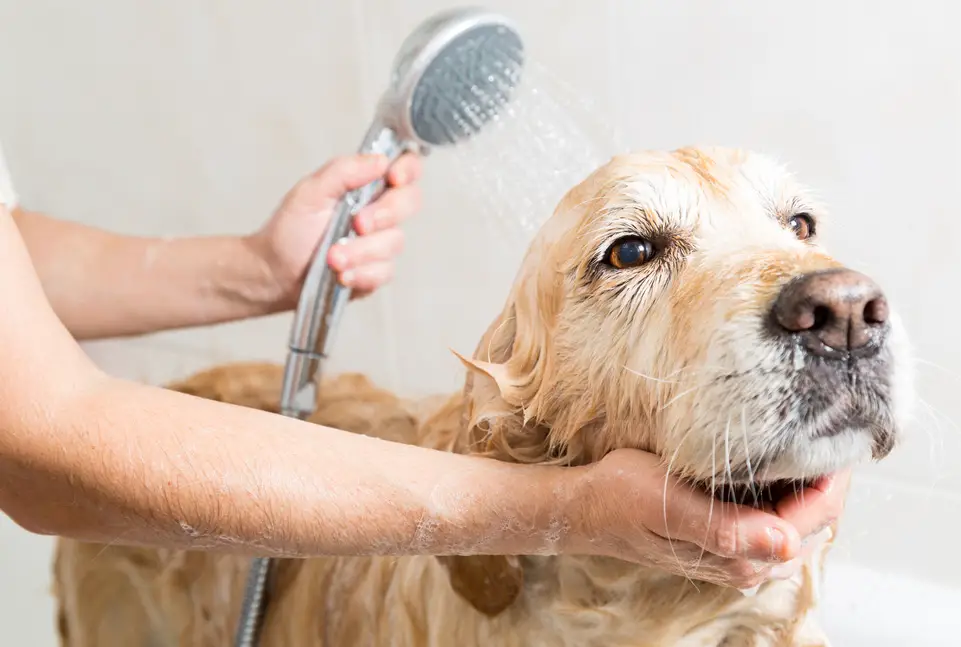 ​Keeping your canine clean is important. Here are the best dog shampoo options we could find that are suitable for any breed.
​
Keeping your dog clean is important, especially if they go outside on a regular basis. Cesar's Way suggests bathing monthly, or up to every week if your companion gets extra dirty or smelly. They shouldn't have a bath more often than once every seven days unless you're directed to do so by a veterinarian. Of course, if they're getting a bath at all, you need the best dog shampoo.
Here are our choices for the best shampoos that you can use on any breed.
How We Chose Our Ratings
Several factors went into our decisions.
First and foremost, we looked for shampoos that can be safely used on any type of dog. There are some breed-specific products out there, especially for a long hair/short hair split, but this guide is focused on shampoo that's suitable for any canine companion.
Next, we looked for shampoos with healthy, organic ingredients​​​​. The last thing we want to do is start recommending products known to have trace amounts of toxins in them. Shampoos can be fairly complex, so we didn't judge by the volume of ingredients – only whether or not they're known to be safe.
After that, we considered the cost of each shampoo. Most pet care products are affordable, but there are a few 'premium' products that are grossly overpriced. Being expensive wasn't a total deal-breaker for our team, but we valued affordable products more than expensive ones.
Finally, we considered the other features of each product, such as whether or not they're hypoallergenic. Shampoos with good features at a low price were weighted higher than shampoos that only keep your pet clean.
We did not include medicated shampoo – this list is about cleanliness, not healthcare. If your dog has a skin or fur condition and needs treatment, ask your veterinarian about the best products.
Top 10 Best Dog Shampoos
Now that you know how we picked the products, let's take a look at the best dog shampoo options.
[amazon link="B0002IEYIE" title="#1: Earthbath Oatmeal & Aloe Shampoo" /]
[amazon box="B0002IEYIE"]
Oatmeal is a surprisingly good material in dog shampoo, and this particular product uses it to full effect. Earthbath's shampoo is a blend of ingredients like oatmeal, aloe, peppermint, and eucalyptus, as well as a variety of vitamins that help to nourish hair and skin. As a blend of natural ingredients, it's completely safe for the environment and fully biodegradable.
As if that wasn't enough, it's also suitable for dry, itchy, and sensitive skin – but it's mild enough that you can use it on any pup without worry. The fragrance is quite mild and shouldn't irritate your dog, especially after they've had a chance to sniff it and get used to it.
Earthbath guarantees their product is cruelty-free, and even goes as far as making sure the packaging is biodegradable (not just the ingredients). All in all, this is an excellent choice for most dogs and our #1 pick. The one thing that may hold you back is that it's a little too mild for dogs that get particularly smelly or dirty. In those cases, consider a more powerful shampoo.
[amazon link="B005CUTWDE" title="#2: Wahl Oatmeal Shampoo" /]
[amazon box="B005CUTWDE"]
Here's another oatmeal-based shampoo, and yes, it is that good. Wahl's shampoo is entirely plant-derived and uses ingredients like lemon verbena, coconut, lime, and aloe vera to moisturize the skin and encourage a healthy coat.
Like our first choice, the emphasis on healthy and natural ingredients mean this product is safe to use on practically any breed. It's particularly helpful if your dog is feeling itchy and needs to scratch on a regular basis, since letting that go unchecked could lead to sores or lesions. Wahl offers this product in a variety of scents, making it easier to find one that both you and your pup like.
As for value, this product is concentrated, so you don't need to use very much of it unless you have a particularly hairy friend. In most cases, a small squirt is enough to create a rich lather and cover their entire body.
While broadly similar to our #1 choice, there is one flaw that holds this product back – the scent can be a little strong, and some people prefer a milder choice for their dogs.
[amazon link="B002LWEGI2″ title="#3: SynergyLabs Veterinary Formula Triple Strength Dirty Dog Shampoo" /]
[amazon box="B002LWEGI2″]
As you've probably guessed by looking at the name, this shampoo is focused on cleaning exceptionally dirty dogs. Unlike our first two recommendations, this shampoo isn't meant to be used on a regular basis. Instead, it's best used when your dog is particularly dirty or smelly.
When they call it "triple strength", what they mean is that it has three times as many cleansing agents as most of the competition. For nourishment, it also has ingredients like shea butter and aloe vera, but the focus is on providing a deep clean.
This particular blend has tea and green apple scents to it, creating a mild but pleasant aroma for several days. Dogs that are naturally smelly will break through this scent in a few days, but then, they'll do that with just about any shampoo.
[amazon link="B074TZ6YT6″ title="#4: Paws & Pals Natural Dog Shampoo And Conditioner" /]
[amazon box="B074TZ6YT6″]
We like this product because it's both shampoo and conditioner in one. Now, conditioner is usually best when it's applied after the shampoo, but let's be honest, sometimes your dog is only going to tolerate one bath.
Aside from being a natural blend, this formula is designed to improve your dog's skin and coat. It has a generous portion of ingredients like herbs, oatmeal, vitamins, and fatty acids, all of which are part of a balanced treatment plan. Like most of the best options, it also helps to reduce itchy skin, and it's all done for a reasonable price.
If you don't want to buy a separate conditioner, we recommend this product above the first two on our list.
[amazon link="B00GZQYLOE" title="#5: Wahl Natural No-Rinse Waterless Shampoo" /]
[amazon box="B00GZQYLOE"]
Wahl earned a second place on this list by providing a much-needed alternative to baths: waterless shampoo. Some dogs just aren't willing to tolerate baths – or, for medical reasons, can't – and this makes a great way of keeping them clean regardless. It's also a good choice if you only need to clean a small area, rather than their whole body.
To use this product, all you have to do is pump some foam into your hand, then massage it into their coat. Once you're done, you can use a towel or brush to remove the extra shampoo and all the dirt or debris.
This product doesn't have quite as many nourishing ingredients as our top choices, which is why it's further down the list. If it had all of their health benefits and was easier to use, this would probably be our #1 choice. As it is, it's still a good choice for most breeds, and it's affordable enough that you may want to get some just in case.
[amazon link="B01IUPDMHO" title="#6: BarkLogic Lemon Tree Natural Deodorizing Shampoo" /]
[amazon box="B01IUPDMHO"]
We're starting to get into the specialty products here, and this shampoo is very special indeed. BarkLogic's deodorizing shampoo uses a combination of plant and mineral ingredients to destroy odors on contact and quickly get rid of various types of dirt and debris. It's non-toxic, hypoallergenic, and biodegradable, making it a good choice for any breed that needs deodorizing.
The biggest drawback to its shampoo is part of its strength. While it has a mild lemon scent, it's so good at getting rid of odors that you may barely notice the lemon unless you repeat the shampooing two or three times. In other words, this is a good choice to get rid of bad smells, but not for creating good smells. Otherwise, this product would be higher on our list.
Like our #5 choice, it may be worth keeping a bottle of this on hand. You probably won't need a great deodorizer very often, but when you do, you don't want to wait several days for it to ship. It's always better to be prepared, and this shampoo is affordable enough to allow the investment.
[amazon link="B011ESJXRW" title="#7: 4-Legger Certified Organic All Natural Dog Shampoo" /]
[amazon box="B011ESJXRW"]
This hypoallergenic shampoo is especially good for dogs with sensitive skin. Labradors are particularly susceptible to that condition, but dogs of many different breeds may need a little extra care.
This shampoo uses a variety of moisturizing ingredients like jojoba, olive, and coconut oils. It also has aloe vera, rosemary, and lemongrass – which, incidentally, can help repel fleas and ticks.
4-Legger, in a departure from most brands, creates this product to USDA certified organic food standards. That's a major mark in its favor and one of the traits that helped it earn a spot on this list.
[amazon link="B0002I9O70″ title="#8: Vet's Best Hypoallergenic Shampoo With Aloe Vera" /]
[amazon box="B0002I9O70″]
You may have noticed that aloe vera pops up in a lot of these shampoos. Like oatmeal, it's just that good of an ingredient. Anyway, Vet's Best produces this hypoallergenic shampoo for dogs with sensitive skin, and it's a great alternative to the previous choice. You won't need both, so get one or the other.
As a no-tears product, this particular shampoo avoids soap and focuses on thoroughly moisturizing coats to reduce itching and provide a softer, better feel. Some owners have even reported a reduction in shedding, although that's more of a side effect.
Better yet, this shampoo does not affect topical flea and tick treatments, so there's no worry about washing them out. As if that weren't good enough, this shampoo is so soothing that it usually replaces the need for a conditioner, reducing the amount of time you'll have to convince your dog to be patient.
[amazon link="B01HNFJUDW" title="#9: Fieldworks Supply Company's Moosh Natural Dog Shampoo" /]
[amazon box="B01HNFJUDW"]
Fieldworks' natural shampoo formula is a particularly good choice for dogs that are outside a lot. Aside from promoting healthier skin and fur, it also has antibacterial, antifungal, antimicrobial, and antiseptic properties. It's close to being a medicated shampoo, but still suitable for purchase and use without being directed to by a vet.
Dogs that are outside a lot are more exposed to problems like microbes and fungi, so this is our top choice for outdoor companions. Indoor dogs don't need this type of product.
[amazon link="B01DFFYHFK" title="#10: Furminator deShedding Ultra Premium Shampoo" /]
[amazon box="B01DFFYHFK"]
Finally, the last entry on our list is focused on dogs that are shedding too much. This isn't as much of a problem with most short-hair breeds, but we wanted to include it because most dogs can be affected by this condition. Furminator's deShedding shampoo contains more fatty acids than most shampoos, and these emphasize strengthening fur instead of just cleaning it.
It's designed to work together with Furminator's de-shedding brush, so be sure to pick that up if you want to get the most out of this product.
A de-shedding shampoo may only be necessary during the hottest months, so pick up one bottle of this a year and only order more if it seems necessary.
Comparison Table
[amazon box="B0002IEYIE,B005CUTWDE,B002LWEGI2,B074TZ6YT6,B00GZQYLOE,B01IUPDMHO,B011ESJXRW,B0002I9O70,B01HNFJUDW,B01DFFYHFK" template="table"]
Buyer's Guide
All of the products recommended here are solid choices for any canine companion.
For general needs, we recommend buying the #1 or #2 shampoos on this list. These are excellent all-purpose products suitable for general bathing needs. They're healthy, affordable, and effective – and that's all we can ask for.
For dirty dogs, you should buy the #3 or #6 products. These help to power through dirt and get rid of bad smells. They're a little too strong to use as a normal shampoo, so only use them as necessary.
For outdoor dogs, the #9 entry is easily the best choice. We want to keep our dogs healthy, after all, and shampoo that keeps bacteria and fungus at bay is a small investment for great rewards.
Finally, for dogs that hate baths, the #5 product on our list is the best option. Most dogs are more than willing to tolerate a no-rinse shampoo, and it doubles as a spot cleaner for when they need a local cleaning but not a full bath.