*This post may contain affiliate links. As an Amazon Associate we earn from qualifying purchases.
When choosing the best dog leashes for your dog, you need to consider the needs of both you and your dog for both long and short walks. The best dog leashes are usually purchased separately from collars and harnesses. Choosing the best dog leashes should be based on whether you walk your dog on a sidewalk or open area, whether you walk at night or during the day, and if you need a hands-free leash or an option for bicycling with your dog.
The leashes below have been reviewed based on strength, durability, how easily one can use them, performance, size ranges, and warranties offered. We have listed the products below by their overall quality, popularity, and value. Also, we considered the overall style and purpose of each leash.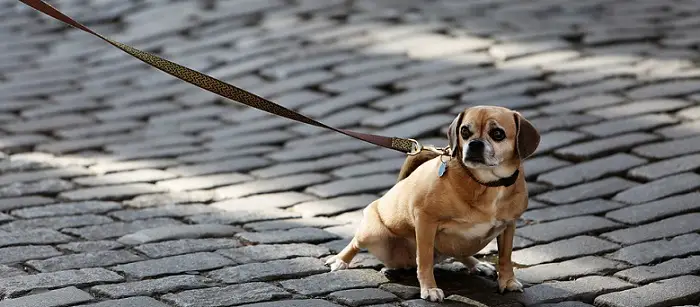 1. TaoTronics Retractable Leash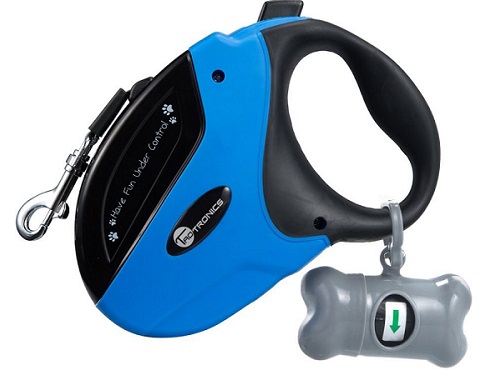 Choosing the best retractable dog leash should come down to the overall quality of all moving parts. Retractable leashes are the best dog leashes for open areas but tend to wear out quickly. The TaoTronics retractable leash features a braking system designed for one-handed operation. This leash is appropriate for dogs up to 110 pounds. As an added bonus, this leash includes a waste-bag holder that attaches easily to your handle.
Pros
Ergonomic grip.
Powerful design for most large dogs.
Slip-resistant handle.
Single-hand operation.
The company offers replacements for defective merchandise.
Cons
Not recommended for dogs over 110 pounds.
Cording should be checked periodically for damage or wear and tear.
Price
This leash can be purchased on Amazon for $18.
2. Pet Neat Retractable Leash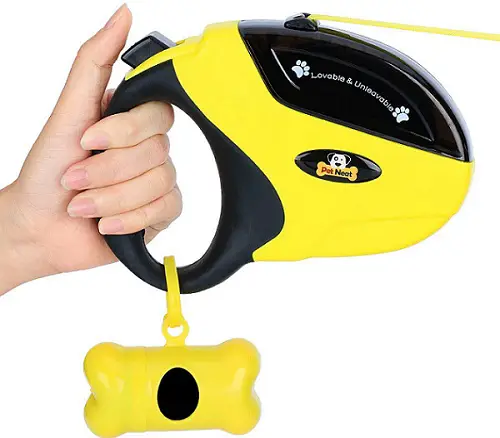 If you are looking for the best retractable leash with a hand brake, this product is a close second. This leash is suitable for one-handed braking and also includes a waste bag holder. The Pet Neat leash is also appropriate for dogs up to 110 pounds. This leash is designed to provide a retractable option for dogs that pull or run.
Pros
100% satisfaction guarantee.
Brake and lock button supports large dogs.
Ergonomic design supports a solid grip for large dogs.
Cons
The ribbon' main material is nylon which may wear down quickly with a heavier dog.
Shared lock and brake buttons wear down easily with regular use.
Price
You can purchase this leash for $19 on Amazon.
3. Pet Dreamland Hands-Free Leash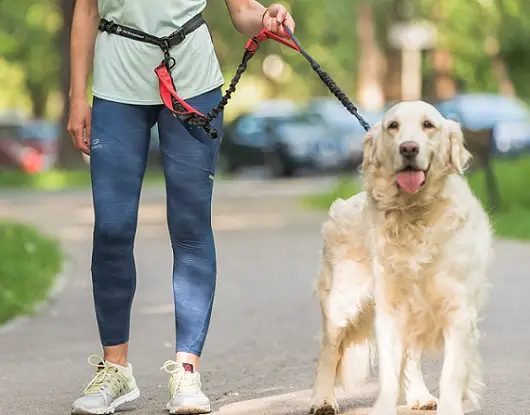 This hands-free leash is made of high-quality material for those who need a leash they can attach to their waist. If you are a runner or you need your hands-free during walks, this is a great leash to try. The leash utilizes bungee cording so that your dog won't hurt you with a sudden dart or a pull in a different direction. The handles and waistband are padded for extra comfort.
Pros
Bungee leash material.
Padded contact points for extra comfort.
User-friendly design.
Cons
Dog weight limit unspecified.
May not work as well with smaller dogs or dogs that like a larger range.
Price
Those interested can buy this leash from Amazon for $18.
4. Walky Dog Plus Hands-Free Dog Bicycle Exerciser Leash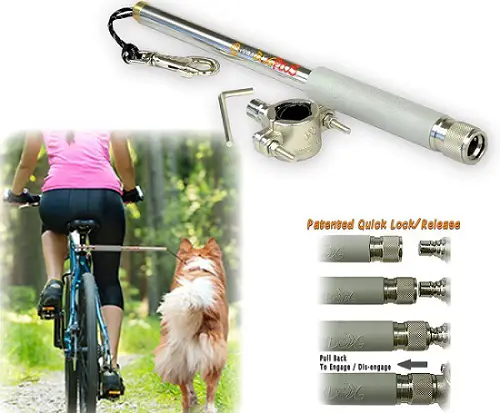 If you need a hands-free leash option for taking your pooch with you on bike rides, this military grade product supports a 550-pound pulling weight for your safety. The leash length is adjustable up to 6 additional inches. The Walky Dog leash attaches right to your bicycle. Multiple units can be installed so you can easily switch your dog between riders if needed.
Pros
High-quality, shock absorbing material.
Easy to install and use.
High pulling weight for safety.
Cons
Be sure you are purchasing the newest version; older versions had minor design flaws that shortened their usability.
Price
This model can be purchased online for $58.
5. GOMA Strong Chew Resistant Reflective Dog Training Leash
Depending on your dog, sometimes the best dog leashes are the simplest. If you are looking for a high-quality reflective dog leash, you will want to focus on the next three products. These leashes are non-retractable.
They are designed for training or for walking dogs on busy sidewalks or areas where you need to maintain more control over your dog's range. The GOMA leash is 100% nylon and can handle medium and large breed dogs. Made from climbing rope, this leash is designed to last. It is available in blue or red.
Pros
Solid climbing rope construction.
Shock absorbent.
90-day guarantee (no questions asked).
Cons
Nylon may not be appropriate for every dog.
May be damaged by chewing.
Price
You can purchase this leash for $14 on Amazon.
6. Pet Baba Double-Handed Dog Leash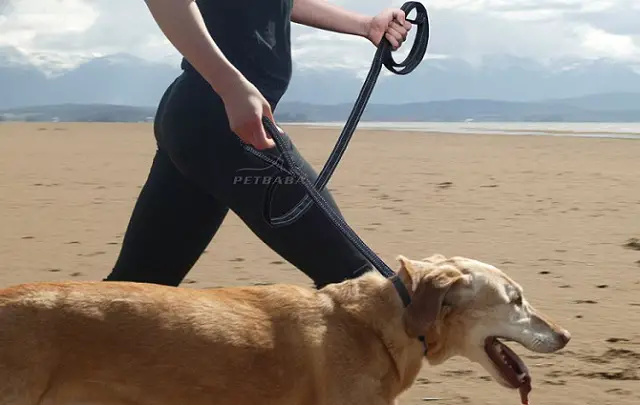 If you are looking for the best dog leashes for larger or more rambunctious dogs, a two-handed leash will give you significant control and security while walking your dog. This leash uses a reflective thread for night time visibility. The Pet Baba leash is also constructed from nylon.
Pros
90-day guarantee.
Made with high-density nylon.
Double handles for added control and comfort.
Cons
Only available in one color.
Price
This product is available on Amazon for $15.
7. Safety Pup XD Dog Leash (Reflective)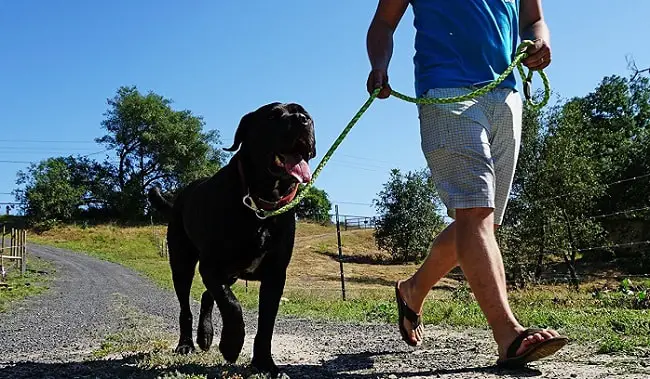 If you are looking for the best dog leashes without all of the bells and whistles, this high-quality lead features highly reflective rope for maximum durability and visibility. Suitable for medium or large dogs, this leash is shock absorbent and comfortable to hold onto. The Safety Pup leash can be used for training or everyday use.
Pros
Available in 4-foot or 6-foot length.
Quality materials.
Shock absorbent.
Groove locking mechanism for an extra secure clip.
Cons
Not designed for front clipping harnesses.
The safety clip is currently only available on the 6-foot option.
Price
This product (both lengths) can be purchased on Amazon for $15.
Final Thoughts
In reviewing the best dog leashes for a variety of purposes, we have provided a starting point for you as you select the product that is best for your dog and lifestyle. Have you used one of the products reviewed above? If so, we would love to hear from you!