*This post may contain affiliate links. As an Amazon Associate we earn from qualifying purchases.
Choosing the best dog collars can be a confusing endeavor with what seems like a never ending world of options. When choosing the best dog collars for your furry friends, consider your dog's age and size in addition to his temperament. Dogs that are well behaved on leashes will be fine with a nylon or leather collar.
Dogs who pull may require a harness or a pronged collar. Also, consider if you need a reflective collar for nighttime walks on busy roads or flea collars for pest protection. If you aren't sure, your vet can help you decide on the best dog collars. You can also refer to the American Kennel Club for breed-specific tips.
Here are the best dog collar to choose from. We ranked them on overall quality and value. Our favorite collars are listed first.
1. Lupine Rain Song Adjustable Dog Collar
This collar is made in the U.S. Matching leashes and harnesses can also be purchased from the company. It features a heavy-duty design, comes in various colors and patterns, and is available in multiple sizes to fit most dogs.
Pros
Comes with a lifetime guarantee that includes chewing.
Heavy duty.
Multiple looks and sizes available.
Cons
Need to size up for larger dogs.
Only one clipping loop, may not be convenient for tags.
Price
You can purchase this collar on Amazon for $10-14 depending on the size you need.
2. Blueberry Pet Solid Color Collar Collection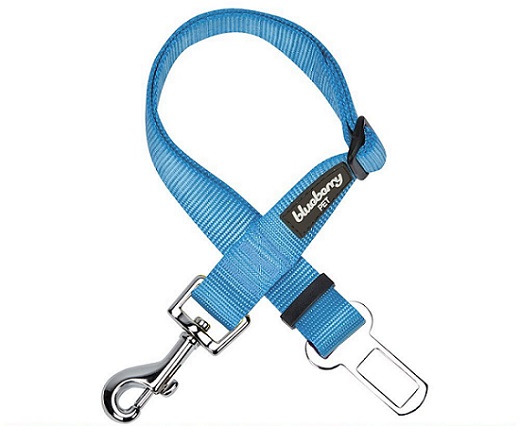 This nylon collar also comes in a variety of colors and sizes. You can buy matching leashes separately. The Blueberry collar is a good option for dogs that are comfortable on a leash.
Pros
Multiple colors available.
Comfortable for well-behaved dogs.
Well priced for the quality.
Cons
Only one metal loop.
Plastic clips need to be checked periodically.
Price
This product can be purchased on Amazon for $9.99.
3. Seresto Flea Collar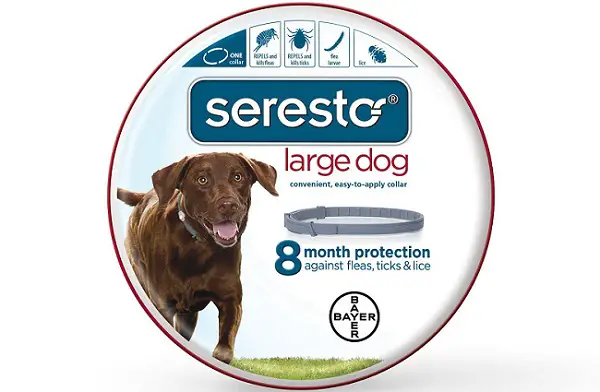 Finding the best flea collar for dogs can be challenging. You must consider the dosage and exact weight of your dog for safety and comfort. The Seresto flea collar provides reliable, safe protection for eight months for your dog. Like any flea product, consult your vet before purchasing to make sure your dog is healthy enough for flea treatment. This product is safe to be worn with another one of our best dog collars.
Pros
Available for large and small dogs. Follow weight guidelines.
Safe protection for at least eight months against fleas, ticks, and lice.
Does not need to be worn full time to be effective.
Cons
May not be suitable for aging, sick, or debilitated dogs.
May cause an allergic reaction in some dogs (call your vet immediately if this happens).
Price
Both large and small collars are available on Amazon for $50.
4. Soft Touch Luxury Real Leather Padded Dog Collar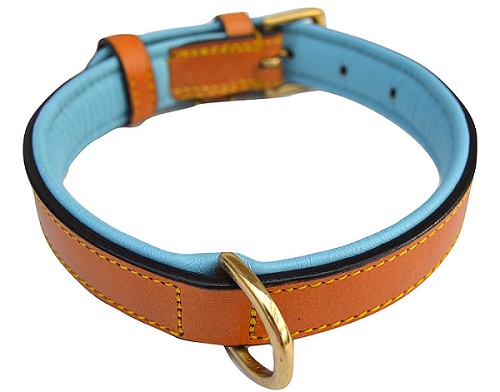 This leather collar features a buckle clasp. It is available in a few different color options including two-tone varieties. When choosing the best dog collars, leather is appropriate for large dogs that do not pull.
Pros
High-quality leather.
No harsh dyes or chemicals used.
Different leather colors available.
Lifetime guarantee available.
Separate collar ring leaves leash ring easily accessible.
Cons
Sizing can be tricky – follow the directions for measuring before ordering.
Not suitable for dogs that pull.
Price
This collar costs between $20-30 depending on size.
5. Herm Sprenger Ultra-Plus Prong Training Collar, 3 mm
If you are looking for the best dog training collar, the Herm collar uses gentle prongs to help correct your dog on walks. It is specially designed to reduce pulling without hurting your dog. Pronged collars are the best collars for dogs who need to be taught (or re-taught) how to properly walk on a leash, despite their size.
Pros
Blunt prongs for safe correction.
Quality chain links.
Easy to put on your dog.
Cons
Metal type not specified.
Sizing is tricky, and additional links may be needed.
Price
This training collar is available for $23 for a medium sized collar.
6. Coastal Pet Easy-On Dog Prong Training Collar with Buckle
If you are looking for the best dog training collar but don't like how difficult they are to put on and take off, this pronged collar features a buckle in place of a slip-on style. This is an easier option for those who prefer buckles but need a collar for a pulling dog. Due to its good quality and moderate pricing, this could be one of the best dog collars with both features.
Pros
Prongs are safe for pulling dogs of multiple sizes.
Buckle for "easy-on" and "easy-off."
Metal loop for leashing.
Cons
The plastic buckle should be checked periodically for wear and tear.
Dogs that pull exceptionally hard may damage the plastic.
Price
You can buy this collar for $14 on Amazon.
7. EzyDog Neo Classic Wide Dog Collar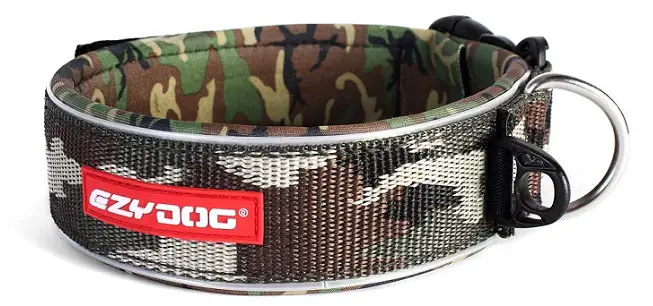 This wide collar is one of the best dog collar styles for medium to extra-large dogs. With extended sizes, this collar is also reflective for added safety for both you and your dog. This collar also has a separate tag holder so you don't have to put everything on one metal loop.
Pros
Multiple colors available.
Suitable for large dogs.
Distributes weight evenly to reduce pinching.
Cons
Neoprene material is comfortable, but not breathable.
Not designed for dogs that pull heavily.
Price
Those interested can buy this collar on Amazon for $27.
Putting It All Together
With so many features, materials, and styles to choose from, finding the best dog collars requires a bit of thought and research. Take your time with your decision, your dog's safety (and yours) depends on your choice. The options described above will give you a starting point as you narrow down your search for the best dog collars for your furry best friend.
Do you own one of the collars described above? We would love to hear what you thought! Leave us a comment with your honest review below.
Image source: 1