*This post may contain affiliate links. As an Amazon Associate we earn from qualifying purchases.
Picking the best food for your pet is a very important process that can have lasting effects on their health. One brand that is worth considering is Beneful dog food.
This article is going to offer an in-depth review of Beneful. We will cover the ingredients, nutritional profile, and more to determine if this brand is an ideal choice for dog owners.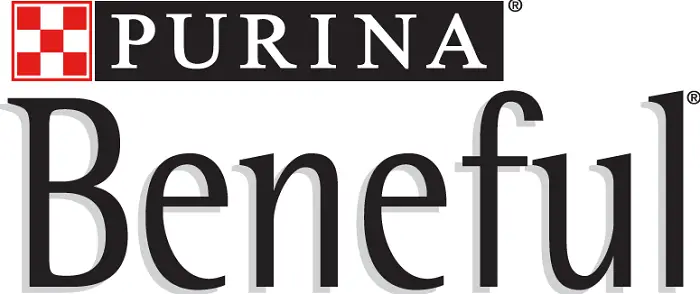 About Beneful Dog Food
Beneful dog food is manufactured by Purina. One of the nice things about Beneful is that the products are tested several times during the manufacturing process to ensure it meets strict quality control standards.
Dogs seem to love the combination of crunchy and soft kibble bits that are included in these products. They have also made several recent changes to their recipes based on feedback from customers. This shows that the company values the opinions of its customer base and that it has your dog's welfare in mind.
As far as recipe selections go, the most popular are the chicken and beef flavors. However, they also offer more exotic choices like salmon and more. You can purchase these varieties in both wet and dry forms.
One great thing worth mentioning about this brand is that it is readily available at most grocery stores and pet stores. You can visit their website for special offers and research locations where you can find their products.
Beneful Dog Food Ingredients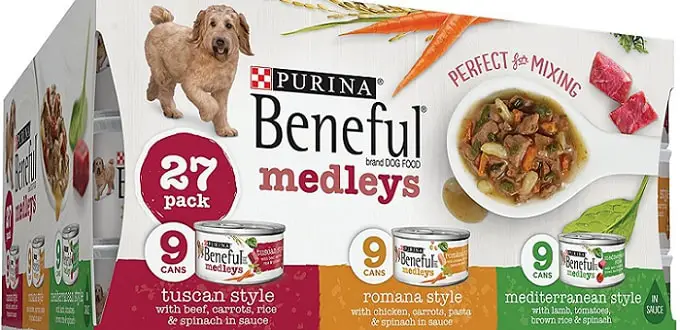 At first glance, Beneful uses high-quality protein sources in all of their formulas. The protein sources are always the main ingredient in all of their available recipes. You will see salmon, lamb, beef, and chicken as the most common selections available.
As far as vegetable sources go, the most common ones are corn, carrots, and tomatoes. Unfortunately, the main source is corn which is a lower quality ingredient that is often considered filler by many customers.
Beneful Dog Food Nutritional Value
One advantage to Beneful is that it offers a complete nutritional profile for all age types. Their foods meet AAFCO feeding standards ensuring that all essential vitamins and minerals are present in their recipes.
For example, their Beneful Original Chicken Flavor formula offers the following nutritional values:
Crude Protein (Min): 25%.
Crude Fat (Min): 12%.
Crude Fiber (Max): 4%.
Linoleic Acid (Min): 1.4%.
Calcium (Min): 1%.
Selenium (Min): .2mg/kg.
Vitamin A (Min) 10,000 IU/kg.
Vitamin E (Min) 100 IU/kg.
Beneful Dog Food Formulas & Additional Flavors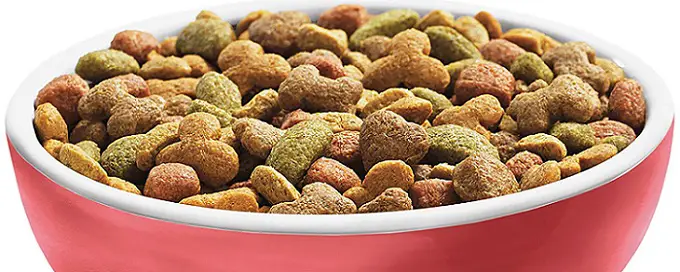 One of the areas where Beneful shines the most is its impressive formula and flavor selection. Their formulas are broken down into two different categories. This makes selecting the right formula for your dog much easier than some other brands.
They also offer some specialty selections like weight management for dogs with special needs. These selections are clearly labeled and are very easy to differentiate. As far as flavors go, Beneful offers plenty of selections.
Their most popular flavors are beef, chicken, lamb, and salmon. Most of these flavors also include wild rice and an assortment of vegetables as well. For dogs with pickier palates or grain sensitivities, there are recipe selections available as well. The most popular version is chicken that includes several popular vegetables like pumpkin and more.
For dogs that are sensitive to dry food, there are also several wet selections available as well. These selections are available in all of the same classic flavors as the dry food.
Beneful Dog Food Pros and Cons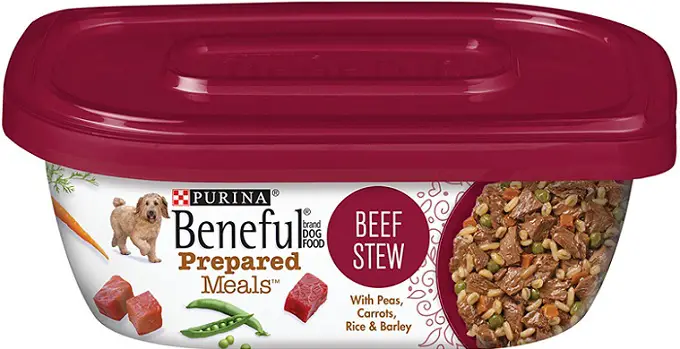 The Pros of Beneful Dog Food
Cost-effective: One of the main positive elements about Beneful is that it is a very cost-effective brand. You can often pick up a 30-pound bag for around $26.
Recipe selection: Another area where Beneful shines is its recipe selection. They have a wide assortment of flavors that are perfect for just about any type of dog. They even have wet varieties available as well.
Grain-free options available: Finding grain-free dog food used to be a difficult process. However, well-known brands like Beneful now offer grain-free options that are perfect for dogs with special dietary needs.
Experienced pet food manufacturer: Another great benefit to Beneful is that it has plenty of experience making pet food safely. With over 80 years of experience, you can be sure your dog is getting a safe product.
The Cons of Beneful Dog Food
Lower quality fillers: One downside about Beneful that needs mentioning is that they use lower quality filler ingredients. Corn is often one of the highest ingredients on the package besides the protein source.
Dyes and colors: Another downside that Beneful has is that it uses dyes and colors in its food. You will find Red 40, Yellow 5, Blue 2, and Yellow 6 in their products.
The inclusion of soybean: Soy is often regarded as a controversial ingredient in dog food. Unfortunately, Beneful does use soybean in their recipes.
Summing It Up
Beneful dog food is an overall great brand. They have an impressive selection of recipes and formulas to select from. They also include all of the essential vitamins and minerals your dog needs to live a long and healthy life in their products.
The brand is also ideal for dog owners who are on a tight budget. While it does have some slightly less popular ingredient choices, it is still an excellent option. Try Beneful out for yourself to see how your dog likes it. For those who have tried Beneful already, feel free to share your thoughts in the comments section.