*This post may contain affiliate links. As an Amazon Associate we earn from qualifying purchases.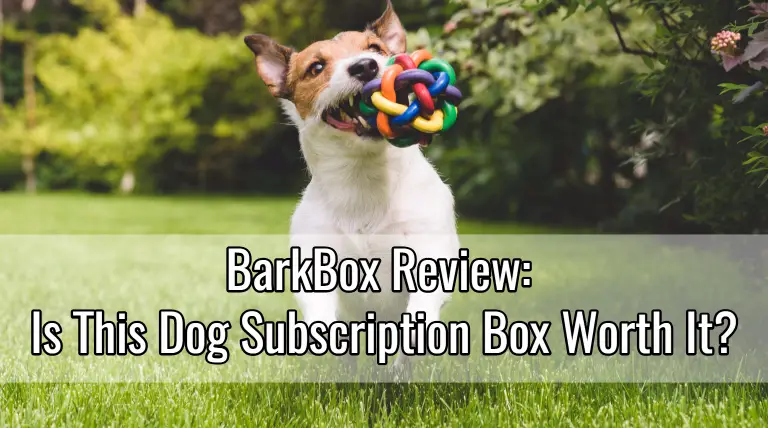 Have you been thinking about purchasing a Barkbox for your beloved, adorable furry friend? Just imagine how excited they'll be when they dig into a box filled with toys and treats designed specifically for them!
What Is Barkbox?
Barkbox is a subscription-based online service for dogs. Subscription services are dominating the online retail market these days. Why shouldn't there be one for dogs?
By subscribing, you will receive a box of treats each month for your pet. These subscription boxes contain a broad range of grooming products, toys, and all-natural treats. Having a monthly dog box delivered directly to your home ensures that your pup will always have plenty of healthy, tasty treats. This also provides convenience for you. No more last-minute runs to the store when you run out of dog treats!
This subscription service allows you to select a box with products that are specifically crafted for your dog's size. There's no need to worry about receiving treats or toys that are too big or small for your dog to use or enjoy. Each box is designed to include products that are safe, consumable and fun for your dog's specific size.
Another thing that sets this company apart is the time and effort they put into designing monthly themed boxes. While most services provide a rotating variety of products each month, Barkbox gives each month a specific surprise theme. A recent box theme was The Good, the Bad and The Pugly. There are also holiday-themed boxes with related treats for your pet to celebrate right along with you!

What's Inside?
Each monthly subscription box contains two all-natural bags of treats, a chew, and two uniquely designed toys to entertain your dog. Most months will also include a dog hygiene product or another bonus product. The dog hygiene products have always been thoroughly tested and guaranteed to be safe for your dog to use.
Every treat is made and manufactured in Canada or the USA. As a loving dog owner, you can rest assured that each product has been tested for quality and safety to keep your pet happy and healthy. The team takes product selection seriously and strives always to provide items that your dog will love.
Barkbox contents are never repeated, and each box is filled with relevant, useful selections. Products are often geared towards holidays or the specific season. Some toys are designed for outdoor use, so they're most likely to be included in a spring or summer box. The subscription boxes each come with an intro card and packaging that ties in with the theme of the products.
Past Boxes
BarkBox has a history of consistently providing high-quality products every single month. Each month is designed around a different theme with products that coordinate. If past trends are any indication, you can rest assured that your purchase will be a good one. Users are thrilled with the variety and creativity that is included in each monthly box.
As you can see, delivery / unboxing day is really fun!
May 2017
This box was designed for small dogs like Havanese, Chihuahuas or Schnauzers. Upon opening the box, you see a colorful printed paper covered with illustrations of cowboys, saloons, and cactuses. This informs you that it must be an old west theme this month!
Bark & Co. Take the Money and Run
MCF Beefy Brisket Bites
Happy Howie Lamb Burger
L.A.Y. There's A Chew Sheriff in Town
No Grainers Bacon Trainers
The contents of this box add up to a value of $35.00. Each snack is made with real beef and lamb with no synthetic or harmful ingredients.
April 2017
April's box is part of the subscription for larger dog breeds like great Danes or Labrador Retrievers. The theme was "New York City." This particular subscription box contained all sorts of fun products that related to The Big Apple.
Butcher's Block Bones 6″ Krunchie Tube
No Grainers NYC Jerky Chews
Sojos Bacon Cheddar Flavor Treats
Lady Liberty Ball
The Bark Post
Customers who subscribed to the box designed for smaller dogs also received The Bark Post product this month. This was intentional, as dogs of all sizes can enjoy this product. There can be some product cross-over each month if the product can be used by a variety of dog sizes. These products retail for a combined value of $39.00. This is an excellent value even when compared to the highest monthly subscription cost.
March 2017
This box was for large dogs. This was a dog toy subscription themed box. All the products in this box were designed to keep them busy chewing the treats and toys instead of your shoes and furniture.
Emerald Pet Products Chicky Twizzies
Yeti Dog Chew
Petsafe Ninja Star
Lucky the Cat Toy
No Grainers Jerky Chews in BBQ Chicken Flavor
Cara Duck Recipe Baked Bites
The combined value of these items comes to around $60.00. Compared to the monthly subscription price, this is a significant saving. The toys in this box were primarily made of rubber. Users report that they are durable and can withstand some serious chewing from large dogs.
Getting Started
To subscribe, you'll first want to visit Barkbox.com. Select the blue "subscribe" box in the center of your screen. You'll be taken to a screen to select your box preference. You can choose from the following three options based on your dog size:
Small & Cute (0-20 lbs.)
Just Right (20-50 lbs.)
Big & Bold (50+ lbs.)
Choose Your Subscription
Once you've selected the box that's best for your dog, you'll be taken to the Monthly Plan screen. Here you can select your preferred subscription length:
12 Months
6 Months
1 Month
Once you've reviewed the pricing options, simply select whichever subscription you prefer. The next screen will ask if you want to add a "Pupgrade" to your subscription. Select "Yes, please!" or "No, Thank You."
Regardless of your selection, you'll next be asked to enter your email address to create an account. Notice that under the email box is a "Sign me up for updates from Bark & Co." Leave the box checked if you'd like to get these updates. If you prefer not to receive additional emails, you can uncheck the box. Once you've done this, click the green "Next" button.
Shipping
The following screen asks you to enter your shipping information including first and last name, and home address. Go ahead and do this, making sure you enter the information correctly.
Next, scroll to the bottom of the page. You'll see your order summary displayed with a total. This should reflect the specific box you selected, subscription length, and pricing. If this information looks correct, click the green "Next" button. If you notice that the pricing doesn't reflect your subscription selection, click your browser's "back" button. You can then re-select your preferred subscription choice.
Payment
The following step will take you to the checkout screen. You can either select to pay with your PayPal account or enter a credit card number.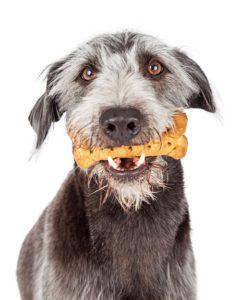 If you choose the "pay with PayPal" option, you'll be taken directly to the PayPal website. You'll be asked to log in to your PayPal account to verify your purchase.
Paying by credit card requires the standard credit card, expiration date, CVV, and billing zip code. After you've correctly filled in this information, scroll to the bottom of the screen and select "Next."
Place Your Order
The final screen will ask you to enter your dog's name and birthday or adoption day. They'll keep this on file so they can send a personalized greeting to your dog on their special day.
You'll also be asked to create a private password to access your account in the future. Once you've done this, you're all set! Just select the "Buy Now" button at the bottom of the screen.
Once you've placed your subscription order, you'll be given a confirmation number and should receive a "Welcome!" email in your inbox. Customer service will start processing your order and will get your box ready to ship at the next scheduled date.
Receiving Your First Box
Subscription boxes are mailed on the 15th of every month. The packages regularly arrive a few days after the ship date. Keep in mind that if you subscribe after the 10th of the month, you won't receive your first back until the 15th of the next month. The company's customer service is always ready to provide assistance to their clients if there is any confusion.
If you receive a defective or expired item in your box, you'll have the option to send it back and receive an account credit or replacement product.

Barkbox Subscription Pricing
If you're considering subscribing, you're probably asking yourself "how much is Barkbox?" Subscription pricing is the same regardless of whether you have a small dog or large dog. This is intentional because you shouldn't have to pay more simply because you have a large dog breed.
The pricing selection you must make is based on how many months you'd like to receive the subscription. Pricing per month is significantly lower if you choose a six or twelve-month subscription.
Pricing options include:
You can select to add on an extra high-quality toy in each box for an additional $9.00 per box. These toys are typically well-crafted, durable chew toys that retail at a higher cost than most other standard items included in the boxes.
Each box includes free shipping except for a $5.00 fee for subscribers outside of the contiguous 48 states.
If you subscribe to the twelve-month subscription and change your mind, don't panic. You're not required to carry out the entire length of your subscription if you're unsatisfied with the product. The company prides itself on having happy customers.
If you are dissatisfied, it's best to speak directly with them so they can resolve your issue quickly. However, you can cancel at any time with zero penalties.
Barkbox Reviews and Feedback
Barkbox is the #1 most popular monthly pet subscription box. They are well respected and trusted in the dog owner community. Customers find the boxes to be an excellent value for the quality of items included. They also know they'll be receiving a wide variety of products to sample and test. It's a great way to discover your dog's new favorite treat or chew toy.
Healthy living is something that is not only applicable to humans. Many pet owners seek to help their dogs to live long and healthy lives. Users have found these subscription boxes to be helpful in ensuring their pets are eating healthy.
This reputable company has received an A+ rating from the Better Business Bureau. Their focus on creating high-quality products made of safe and natural ingredients has made them a trusted favorite in thousands of dog homes.
Based on what other users have said, we have determined the following:
Pros:
The combined retail value exceeds the maximum monthly membership fee.
The treats are all-natural and safe for your pet to consume.
Subscription boxes are customized for your pet's size.
Products are never repeated in the same subscription.
The toys are high-quality and stay in good condition after repeated use.
Cons:
Boxes cannot be further customized beyond dog size.
Products are non-refundable if your pet does not prefer them.
Bottom Line
If you're looking for an affordable and easy way to treat your dog each month, a subscription service can be a great option. This company is trustworthy and responsive. They've proven over time that they take your dog's health and happiness seriously. This is reflected in the obvious care that goes into their monthly subscription boxes. The products are well-selected and include a wide variety.
Thank you for reading our Barkbox review. Please let us know your thoughts in the comments! Or click the button below to get started today…