*This post may contain affiliate links. As an Amazon Associate we earn from qualifying purchases.
If you are an owner or breeder of large breed puppies (weighing over twenty-five kilograms when they mature), you are probably very concerned with providing optimum nutrition for your animals. Acana Large Breed Puppy Food is produced in Acana's own kitchen. Therefore, they can insure that the ingredients are from their own region. This helps the company provide the freshest sources of foods possible.
They also make dog foods that are considered to be biologically appropriate. Since all breeds of dogs share the common ancestor of the gray wolf, Acana strives to produce foods that this wild ancestor would have needed to maintain health and wellness.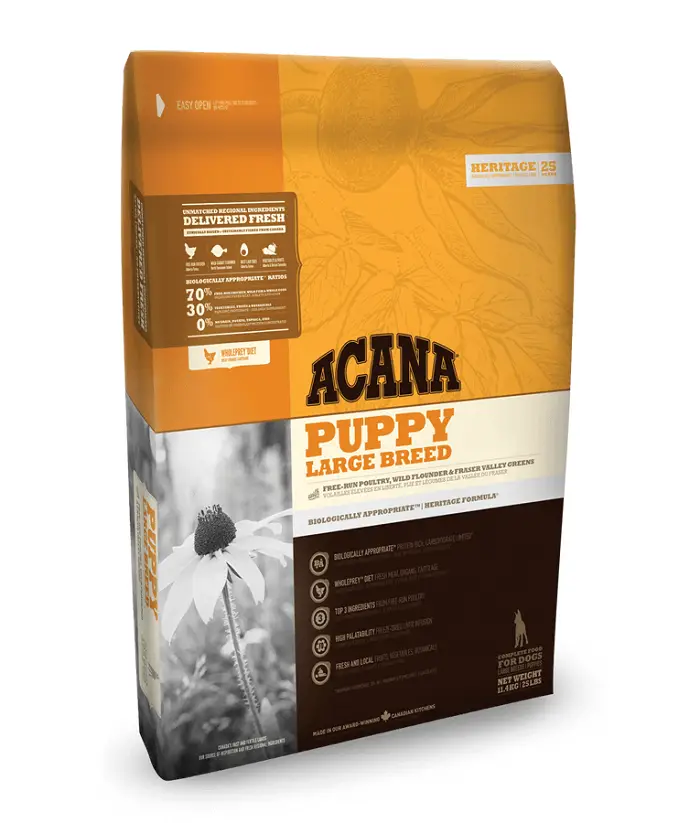 The inner digestive anatomy of the animals has not changed much. Their needs continue to mirror that of their ancestors. The Acana mission is to produce regionally acquired, "biologically appropriate" foods in their own kitchens. Recipes are focused on richly nutritive proteins instead of unnecessary carbohydrates, vegetable proteins or additives.
In this Acana Large Breed Puppy review, we will also examine the major ingredients that are included. We will also take a look at the amounts suggested to give your dog the proper amount of nourishment they need.
ACANA LARGE BREED PUPPY REVIEW
Ingredients
This Acana Large Breed Puppy review of the food formula shows that their recipe includes fresh chicken meat, fresh chicken giblets, fresh eggs, fresh flounder, turkey, and chicken meal. In addition, there is a host of other healthy fruits, vegetables, fats, and herbs including:
Herring oil.
Red lentils.
Fresh whole pumpkin.
Parsnips.
Spinach.
Kale.
Apples.
Cranberries.
Butternut squash.
Bartlett pears.
Carrots.
Yellow peas.
Green peas.
Chicory root.
Burdock root.
Rose hips.
And marshmallow root.
They have formulas to match the size of your dog's breed and formulas to follow your dog as growth continues into adulthood. The feeding guides are designed to find the perfect instructions for each large puppy.
The owner has to take the current weight of the dog and then look at the expected weight of the dog to come up with the amount per feeding. These usually are approximately 1 1/3 to 1 1/2 cups per feeding.
Nutritional Value
The Acana Company strives to maintain the biologically appropriate nutritional values for their foods. They use the ratio of seventy percent chicken, eggs, and fish. Then, thirty percent of the food contains fruits, vegetables, and other botanicals. There's only one supplement called zinc proteinate. No carbohydrates, glutens, plant protein concentrates or Genetically Modified Organism type foods are used in any of their products.
Since their foods are produced based on the evolutionary type diet, they use mostly meat-based products. For this reason, botanicals are included much like the ancestors of today's dog would have sought out and included in their diet.
All foods are prepared in their kitchens so that they can oversee each part of production and ensure freshness. They make every effort to utilize only sustainably fished and ethically raised sources of food. In order to focus exclusively on the quality of their food products, they do not produce foods for any other company.
Acana Formulas and Available Flavors
Acana Dog Foods come in several formulas. They have the Acana Classics Formula which includes Prarie Poultry and Wild Coast. Their Heritage Formula includes: Puppy Small Breed, Puppy and Junior, Puppy Large Breed, Adult Small Breed, Cobb Chicken & Greens, Adult Large Breed, Sport & Agility, Light & Fit, and Senior Dog.
Their Acana Regionals Formula includes Wild Prairie and Pacifica. Their Acana Singles Formula, and Acana Singles Formula Treats both include: Grass-Fed Lamb, Free-Run Duck, Yorkshire Pork, and Pacific Pritchard.
Acana Large Breed Puppy Review  Pros and Cons
Pros
The formulas have very high-quality ingredients focused mostly on high-quality protein sources. They also add high-quality fruits, vegetables, and other botanicals. Having their own labs near their factory enables them to develop new techniques.
They use several different formulations with a good selection of different flavors. As a result, there is a generous selection for dogs with different tastes. In addition, the company has also never had any recalls of their products.
Cons
Their foods may be a little pricey due to the high quality of ingredients that are used. It is only offered online at the official Acana site www.Acana.com and with selected retailers. People can't usually find the Acana line at big, commonly used retailers.
Company Tenets
This Acana Large Breed Puppy review shows that the Acana company strives to produce a high-quality food that focuses on the freshest, regionally sourced, high protein ingredients from areas such as Alberta, Vancouver Island, and Okanagan Valley areas of Canada among others.
These ingredients are "fit for human consumption" before arriving at their own kitchens. This way, they can ensure that their food is the best formulation for your animals.
Another of the main company tenets is the belief that animal food should strive to be "biologically appropriate." The diet should reflect the feeding habits of the gray wolf since it is the ancestor of modern canine breeds. The company strives to follow the "Whole Prey" system for providing the appropriate amounts for their "biologically appropriate" mission for optimal animal health.
Their official website, www.Acana.com, has a great deal of well-organized information about all the products, manufacturing steps, and details about all their food lines. Acana large breed puppy reviews show that the company stands by its mission to produce food that is "biologically appropriate" as well as fresh food that is fit for human consumption.
They also protect the environment by using sustainably farmed, ranched and fished products. The mission explains their endeavors to provide foods that are 70% high-quality protein sources as well as vegetables, fruits, and other botanicals that are integral parts of the diet.
Final Word
Try the Acana Large Breed Puppy Food or any of the Acana animal food lines available by visiting their website at www.Acana.com and add your experience to this Acana large breed puppy review. Visit their website today to see all the benefits these products have to offer.